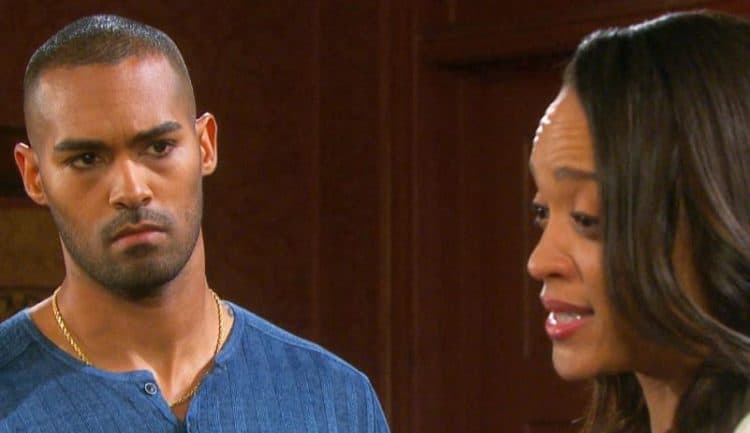 Days of Our Lives fans know that a lot of things happen at times that people least expect them, and this might be one of those times. We suspect that there might be more to this story that we think, and we think that Ben is remembering the night of the fire accurately. He is trying so hard to figure out what is real and what is not, and we are almost positive he is doing a decent job of it. He may not be entirely correct about what he remembers, but we do think that he is close enough to figuring it out that it might be something we can believe. Ciara wants to believe him, and she wants to find out what happened to them, but she's still not sure she can trust this or what he remembers.
We also know that Chad simply cannot handle this anymore. He had to walk out of the door and leave his wife because he can't handle her pregnant. We don't really blame him, of course. We cannot imagine that what he is going through or doing is an easy thing, but he's not making things easier on anyone at this point. He's in the middle of a big situation, and it's bad news for him. He's got to find a way to make things right with the people in his life, but he's not sure where to begin. Watching Abigail suffer and watching Gabi lie and move in on him is difficult for all their fans, but we suspect it will all come out at some point. There's a lot happening, and there is a chance it could go either way and take them down a number of roads. We just hope one of their roads is a good one and they are good to go.
What's Happening on Days of Our Lives
So long, Salem. Hello, Denver. #DAYS is coming to the Park Meadow's Retail Resort this Saturday, August 11. See you there! pic.twitter.com/yetNGcUMc6

— Days of our Lives (@nbcdays) August 8, 2018
Last chance fans. If you've had no time to think about the fact that you have the chance to meet your favorite Days stars tomorrow, you are out of luck. They will be in Denver for a few hours to meet and greet fans, take photos, answer questions, and basically make your life feel so much more fulfilled. Because there is nothing quite like meeting your favorite stars to make you feel like everything in your life has been made. And this is your last chance. It's tomorrow. It's going to be over. And this is the last time we will bring you this invite.
What's Next on Days of Our Lives
Marlena gets ready to marry John, and Ciara finds she can't stop thinking about Ben. Watch Days of our Lives, weekdays on NBC. pic.twitter.com/4OlvjdIu4d

— Days of our Lives (@nbcdays) August 6, 2018
Gabi might have learned a thing or two when she was falsely imprisoned for a murder she did not commit that Abigail's alter ego committed and then blamed outright on Gabi. Boy, that was a mouthful, wasn't it? And now things are taking a serious turn as we watch this all unfold in a way that makes us feel a bit overwhelmed. She's gotten him to feel that he cannot live with his wife anymore because her baby is not his (it is, but you know that). And now she's about to find a way to make sure that they live together. In fact, she's manipulating an entire relationship with him by getting him to move in with her where she will use her feminine wiles to seduce him. We predict she will end up walking around half naked, 'accidentally' being undressed in front of him, faking chance encounters that will bring him to her.
She's a woman who knows what she wants at this moment in time, and we are positive she will do anything and everything in her power to get all of it. She's not sure she can handle what is happening otherwise, but we think that there is a good chance she can make sure she gets what she wants from him in a manner that makes them both feel more than good about the way it's going. With Kate on her side, too, Gabi has all she needs to ensure she's able to steal him from his wife to punish her. Of course, he will never speak to her again when he finds out she is the one who made him feel his own baby belongs to someone else, but whatever.
Stay tuned for more Days of Our Lives and be sure to check out TVOvermind daily for the latest Days of Our Lives spoilers, news, and updates.