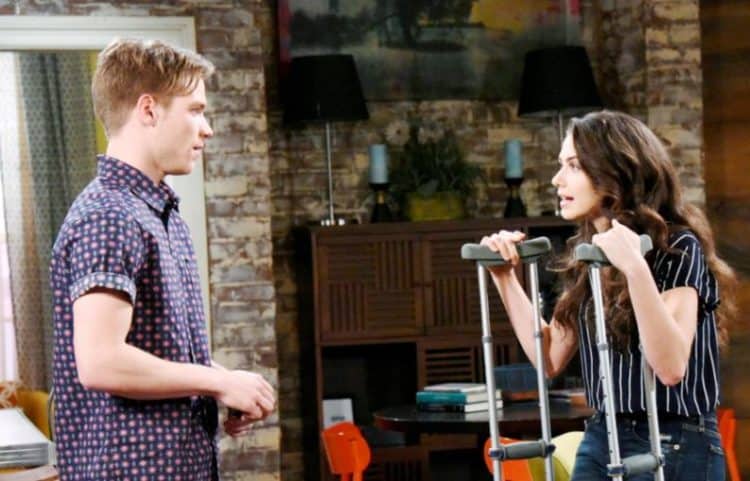 Days of Our Lives fans are watching with baited breath as things are going to happen in their lives. It's not a good week for Eve and Victor as they find that Jennifer has realized what happened and things are not working in their favor. She's confronted them about what they did. She knows they were only looking to make sure Theresa did not get Tate in the custody battle, but they didn't have any clue that she would end up letting JJ take the blame for the drugs they found in her apartment. It's not been a stellar week for them, and Jennifer is upset that they don't really seem to care much about the fact that things did not work out the way they planned on them working out. She's mad, but we don't know that she will seek any sort of revenge on them in any way. She's upset, but she's not too vengeful.
We also watched as Eli was there to support Lani when she went back to work. It's been a very emotional roller coaster for her figuring out what to do with the way her life has turned out. She lost JJ. She lost her baby. She lost all that she hoped for in the future, and she lost a lot of respect from people she admires and works with on a regular basis. She's a woman who has a lot of trouble right now, and we don't know how to manage that, how to take that, or how to work with that in any other capacity. She's got some issues, and we certainly think she has to figure those out in some way. Can she do it as the week goes on and she's back to work and her regularly scheduled life?
What's Happening on Days of Our Lives
What's in store for #Cin this week? #DAYS pic.twitter.com/iADl12HSq0

— Days of our Lives (@nbcdays) July 30, 2018
Is it too much to ask that we just get to see Ciara and Ben together? We know he's having a very rough time of things in his life at this point, but we do want to see this situation get a little crazier and a little more exciting. We want to see them make this their own situation, and want to see them make it public that they are going to become a couple and live happily ever after. Why, just why, is this too much in any capacity? We love it, but we are just asking for it.
What's Next on Days of Our Lives
This week on #DAYS: Eric has an important question for Jennifer, but the moment doesn't go as planned. Watch Days of our Lives, weekdays on NBC. pic.twitter.com/QSnkOyUwcc

— Days of our Lives (@nbcdays) July 30, 2018
Eve is not happy with Jennifer, and she's about to try and do whatever she can to ruin her life. She wants to be sure that Jennifer doesn't feel too good about things and the way they are going in her own life. Perhaps it was the way that Jennifer spoke to her about what she and Victor did to JJ with the drugs, but Eve isn't about to let Jennifer sit there and act like she's better than her and that she has a better life or a better situation or whatever it is in front of her. She's not happy about things, and we can see that she will clearly do anything in her power to change the way things are going for her at this point.
So when she opens her mouth and share with her something she knows about Eric, it will crush Jennifer. She will have a big choice to make. She has to decide if she can handle this information with class and elegance, or if she will believe it at all. She's in a situation that doesn't allow her to sit around and hope for the best, so we are sitting around and hoping for it for her. She has to get her life together, and we do think she can manage in some way. She's not someone who really does fall apart at a drop of a hat, but she's about to realize her life is spiraling out of her control in many other ways, too. Maybe she can choose to ignore this.
Stay tuned for more Days of Our Lives and be sure to check out TVOvermind daily for the latest Days of Our Lives spoilers, news, and updates.