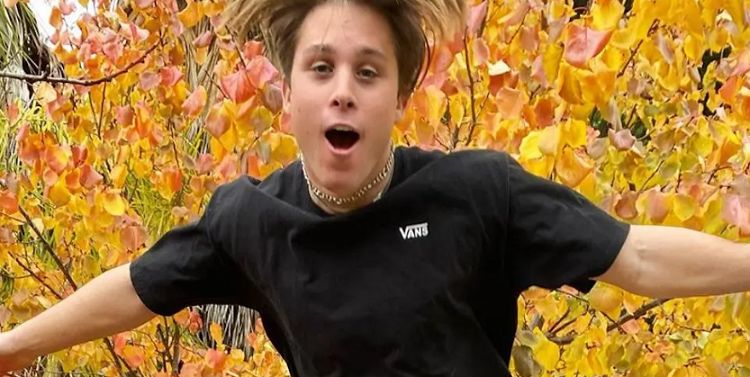 In just a little more than a year's time, Calvin Goldby has gone from being a typical person to a social media star. In June of 2019, one of his videos went viral on TikTok and his following quickly started to grow. How now has more than 850,000 followers on the platform and he's ready to run those numbers up even higher. Calvin is best-known for his dance videos which often feature other popular TikTokers. He also posts funny videos of him and his friends doing random things around the house. As his following continues to grow, there's no doubt he will have all kinds of new and entertaining content to share with his supporters. Keep reading for 10 things you didn't know about Calvin Goldby.
1. He Was A Baseball Player
Calvin grew up playing competitive baseball and was a stand out athlete in high school. In July of 2018, a source reported that he had committed to play baseball at Palomar College which is located in California. However, it doesn't appear that he ever actually joined the school's baseball team and there is no explanation as to why.
2. He Started a YouTube Channel
Most people who are familiar with Calvin know him best from the videos he posts on TikTok. However, like most other social media stars, he is trying to cast a wide net by getting involved on other platforms as well. At the end of 2019, he began uploading videos to his YouTube channel. he currently has 54,5000 subscribers and his videos have more than 273,000 total views.
3. He's A Member Of The Hype House
In the TikTok world, it's become common for creators to form cliques. These cliques consist of frequent collaborators who typically live in the same house and spend all of the time creating content for social media. Calvin is a member of the Hype House which is one of TikTok's most well-known cliques. Some other people in the group include Chase Hudson, Kouvr, and Addison Rae.
4. He's A California Native
Unlike many others influencers, Calvin didn't have to pack all of his stuff and move to California in order to make himself more visible in the social media community. Calvin was born and raised in California and attended Carlsbad High School. He is grateful for where he grew up and still resides in California today.
5. He Loves Spending Time Outdoors
One of the biggest perks of growing up near the coast in California is the beautiful weather. Nothing compares to spending a nice day at the beach with friends and family. This is something that Calvin takes advantage of as often as possible. He loves spending time outdoors and doing activities such as as swimming and riding jet skis.
6. He Participated In Blackout Tuesday
After the murders of several unarmed Black people at the hands of police, people all over the country — and even the world — began to organize protests and rallies against police brutality and racial injustice. Social media was instrumental in a lot of this organizing. A virtual protest was put together which asked people to upload a black square on social media in June 2nd to show solidarity with the black community. Calvin participated in the movement which was dubbed Blackout Tuesday.
7. He's A Model
Feeling comfortable in front of the camera is simply something that comes natural for Calvin. He loves posing and expressing himself through videos and pictures. His Instagram account is full of model-style photos. While it doesn't look like he's modeled for any brands yet, it wouldn't be surprising if this was something he decided to do in the future.
8. He Doesn't Reveal Much About His Personal Life
Calvin is making a career out of porting things on social media. But that doesn't mean that he wants to post about his personal life. Like many others influencers, Calvin only posts content that is relevant for the brand he's created on his platforms. He doesn't seem to have any interest in sharing intimate details about his private life.
9. There Have Been Rumors About His Dating Life
No matter how private influencers or celebrities are, their relationships are one thing that is nearly impossible to hide from the public. Once we start seeing people who appear to be coupled up, it's only a matter of time before the rumors start flying. There has been some talk that Calvin is dating a young woman named Iley Bigelow, but he has not confirmed this himself.
10. He May Not Live In The Hype House
Calvin is definitely a part of the Hype House. Most members of the group live in the crew's beautiful L.A. mansion. However, it's unclear whether or not he actually lives in the house. When he initially joined, it was clear that he had not yet moved into the house, but it's difficult to tell whether that has changed.
Tell us what's wrong with this post? How could we improve it? :)
Let us improve this post!