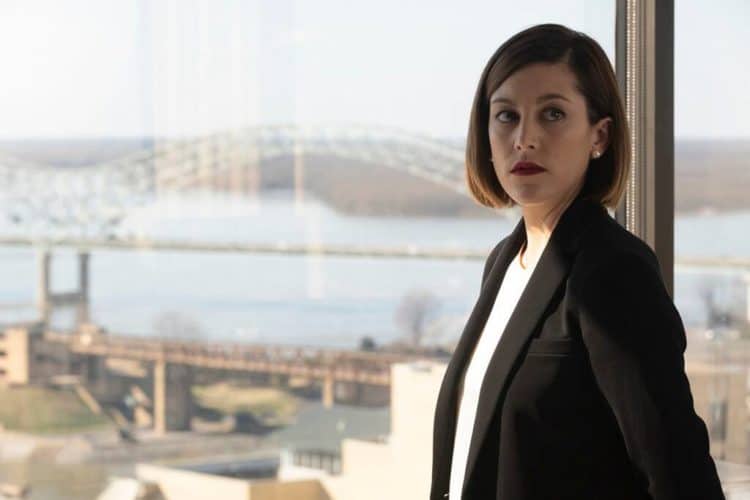 Caitlin McGee is an American actress who is best known for her appearances in the television series "L.A. Law," as well as "NYPD Blue," and "The West Wing." She's made headlines recently in a new upcoming drama series titled "Bluff City" opposite the legendary Jimmy Smits. She will play the role of his estranged daughter who goes back to work for her father's firm, although the two have a long history of knocking heads. It's slated to be one of the best new drama's of the season, so here are 10 things that you didn't know about Caitlin McGee that might let you know what to expect from her in the new role.
1. This is her first headliner
Caitlin has made appearances in other crime and drama related television series, but this is her first co-starring role. Nevermind the fact that she's thrown into the role opposite Jimmy Smits. It has all the appearances of being a breakout role for her. If you like high powered lawyers who seem to always have a drama going on amongst themselves then this is likely to be a show that you can get interested in. We're looking forward to seeing Caitlin take on a major role.
2. She's nothing like the character in real-life
Caitlin shared that her character is a long way from sharing the same personality traits, but the things that tie the two together are the moral compass as well as the heart. These are aspects of the character that she can tap into to get into the role of the character and make her believable. Her new character is headstrong and very much an alpha personality who likes to take charge and be in control. McGee is a bit more laid back than that.
3. McGee had a recurring role in "Grey's Anatomy."
Although this is her first headliner, Caitlin did land a good gig on "Grey's Anatomy." She was cast in the role of a pregnant woman who faced multiple issues with the health of her child. She appeared on the series in a recurring role that lasted for a full 14 episodes. This is longevity for a character on a series who isn't considered a part of the main cast and it gave her some good exposure.
4. Caitlin has a college degree
Prior to pursuing her career in acting, Caitlin McGee attended College. She enrolled in two programs at Wagner College, which included Theater Performance and Speech. She completed all of the requirements and she graduated from the institution with her Bachelor's Degree.
5. Caitlin will appear in another new series
We learned that Caitlin is also going to appear in a new show that is slated for Amazon subscribers. It's titled "Modern Love," The series is packed with stars including Dev Patel, Anne Hathaway, Tina Fey, and others. Although McGee will only appear in one episode of the show, she does show up in the first season as a love interest of Dev as the show prepares for its October launch on the streaming circuit.
6. She's in a relationship
Fans are always curious about what is going on the personal lives of their favorite actors and actresses. We learned that she's recently been seen out with actor Patrick Woodall. The couple met in 2014 when they were both involved with performances at the Manhattan Theatre Club. You might recognize Patrick from his role in "The Normal Heart," or from the series "White Collar." He has a few acting credits to his name and acting is something that the two have in common.
7. She's not yet reached the million-dollar mark
We were interested in learning all that we could about the rising star, and when we checked on her net worth, we learned that she hasn't yet reached the million-dollar point, but we sincerely believe that all of that could change soon. As of the end of 2018, Caitlin's personal net worth was estimated to be at $500,000. We'll see what happens in her upcoming new series. This has the potential to launch her into superstardom if the series goes the way we think it might. We're keeping our fingers crossed for her in this new endeavor.
8. Caitlin is 31 years old
We also learned that Caitlin McGee was born on January 9, 1988. This makes her 31 years of age, which is ideal for the new role that she's been cast in. This is a character with tremendous potential to evolve over time. Caitlin uses the name that her parents gave her professionally. Her mom is Joan Durkee and her father is Johnny McGee.
9. She has a big presence on Social media
Caitlin has an Instagram account and it's filled with interesting posts that feature all kinds of great photos. From what we saw, she doesn't just go with glam shots, but there are a few of them on there. Rather, she posts photos of herself in her everyday life and interactions with colleagues as well as with her friends and family. It's a great place to get more info on what's currently happening in her life. She has a total of 3,187 followers and she's off to a good start.
10. Caitlin McGee Bears watching
McGee is one of those veteran actors who has had quite a few roles in television series, so she has plenty of experience. For the first time in her career, she's landed the lead role and it's opposite one of the biggest names in the business. The potential for this series going all the way to the top is really high. The role is solid and like the series, there's a decent chance that it's going to be the role that will launch her career into a new level of stardom. Caitlin is an actress to keep your eye on because we think she's on her way up.