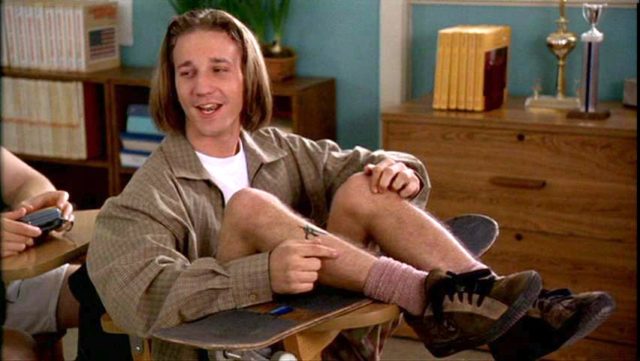 American actor Breckin Meyer became well-known for his role as Nick Schaffer in the movie "Rat Race" (2001) and from the Garfield film series. You may also remember his as Marco in "Josie and the Pussycats" and as Charlie McKay in "Kate and Leopold," both in the same year, but we haven't seen much of him in the recent past. This has some fans wondering what he's up to. We can assure you that Meyer is keeping himself busy in show biz. Here is what he's been up to since 2001.
He's still involved with film and television
In 2009, Meyer co-starred with McConaughey in "Ghosts of Girlfriends Past." The same year, he appeared in the Street Sweeper Social Club video "100 Little Curses." He wrote "Robot Chicken: Star Wars" for which he was nominated for an Emmy Award, and he also does voice work on Robot Chicken. He is also the voice of Joseph Gribble for "King of the Hill."
He's done a lot of voice acting
Breckin has done several voice gigs in addition to Robot Chicken. He's done voice acting for "Family Guy," "Potato Head Kids Spud," "Phineas and Ferb," "Super Mansion" and "Titan" as Maximum Commander Palmer. Meyer has consistently had work doing voice acting gigs, which he is currently involved in. This may be one of the reasons why fans were wondering where he went. His face may not be as present, but his voice certainly is, albeit, in the disguise of the characters he portrays.
Still working in film and television
His most recent work includes "The California No Famous Actor" which is in post-production. Meyer has kept his work slate fairly full. In addition to working in film and television series, he is also the voice of Dr. Jefferson Boyle in the popular video game "Titanfall 2.
Brief musical career
Meyer is a drummer who played for the punk band The Street Walkin' Cheetahs. He's performed at L.A.s' Hotel Cafe. After his time with the Street Walking Cheetahs, he started his own group with Alexander Martin and Seth Green, called Bellyroom. Alexander is the grandson of famous crooner Dean Martin. They played some gigs in the L.A. Are in 1996 but the band didn't make it big on the music scene.
He's currently married, but has separated from his wife Deborah Kaplan. The couple have two daughters together.
Breckin shared that one of his dreams has been to be a kindergarten teacher. He hasn't abandoned this notion and said that he might still pursue a career in teaching at some point in his life. For right now, he's keeping himself busy in a few different aspects of the entertainment industry. So if you're wondering whatever happened to Breckin Meyer, he's staying busy with voice acting, writing and doing the things that he loves. He hasn't really gone anywhere, he's just a little harder to see these days. You can tune in to your favorite animated series and hear him as the voice of some of the more popular characters. Breckin Meyer is alive and well.