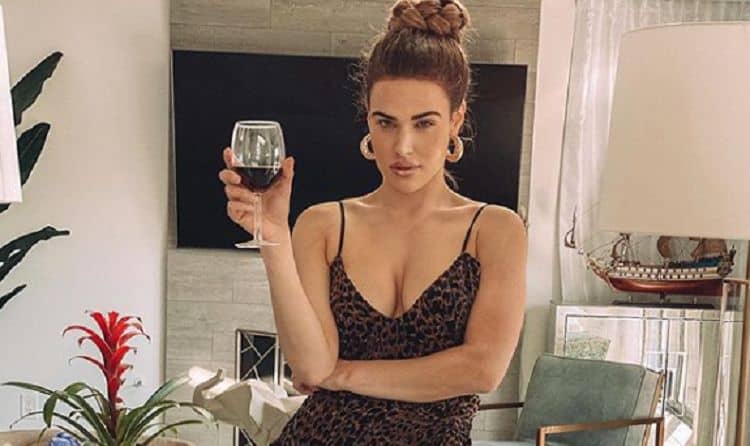 There are some people out there who will be more familiar with C.J. Perry under a separate name. This is because she wrestles on the WWE's SmackDown brand under the ring name of Lana, though that is but one of the roles that she has held over the course of her career. Here are 10 things that you may or may not have known about C.J. Perry:
1. Born in Gainesville, FL
Perry was born in Gainesville, which is the biggest of the cities that can be found in North Central Florida. Said city has a number of claims to fame. For instance, it is home to the University of Florida, which is one of the biggest universities in the United States when measured on the basis of enrollment. Furthermore, Gainesville has a reputation for the visual arts thanks to its well-established support for them.
2. Not a Russian
She has been known to play a Russian. However, Perry is neither Russian nor someone with Russian heritage. Instead, she can claim some Portuguese heritage as well as some Venezuelan heritage.
3. Spent Some Time in Latvia
With that said, Perry is pretty familiar with Latvia. After all, her father was there as a Christian missionary when it was still the Latvian Soviet Socialist Republic. Furthermore, Perry's family stayed in the country after it gained its independence in 1991. In fact, Perry studied at the ballet school of the Latvian National Opera with the result that she danced with the Latvian National Ballet when she was still at the age of 14.
4. Continued to Dance When She Returned to the United States
When she was at the age of 17, Perry returned to the United States where she continued to dance at various venues. Perhaps unsurprisingly, when Perry went Florida State University, she did so as a student who majored in acting as well as dancing. In time, she started going to Florida State Seminoles games where she would dress up as a cowgirl along with a number of other students, who got noticed on a national level because of a game between the Seminoles and the Miami Hurricanes.
5. Was a Member of a Girl Group
At one point in time, Perry was a member of a girl group called No Means Yes, which managed to release one single and record a couple of others before breaking up. Apparently, Perry sang the hymn "Jesus Loves Me" at the audition because her fear was making it difficult for her to choose something to sing. With that said, it helped that Perry was already a model capable of dancing at that point in time, which combined with her tone to get her the job. Something that in turn, provided her with valuable expertise and experience for her continuing career in the entertainment industries. In particular, Perry thinks that she wouldn't have gotten her role in Pitch Perfect and thus Pitch Perfect 2 if it wasn't for her time in a girl group.
6. Had an Awkward Moment Because of Malaysia Airlines Flight 17
With the WWE, Perry started out as the "social ambassador" for the heel wrestler Rusev. As a result, her gimmick was being both anti-American and Russophilic. Unfortunately, Perry ran into a very awkward moment because of her gimmick when some of her comments were interpreted as a reference to Malaysia Airlines Flight 17, which was shot down during the War in Donbass in an area controlled by pro-Russian rebels. Suffice to say that the WWE had to issue a hasty apology to those who were offended paired with the defense that Perry's role wasn't a reference to the incident but rather a part of a storyline that had been running for more than three months.
7. Had Two Weddings with Rusev
In real life, Perry is married to Miroslav Barnyashev, who should be better-known to most people under the ring name of Rusev. It is interesting to note that the two had not one but two weddings. One wedding took place in Malibu, CA. The other wedding took place in the city of Plovdiv in Bulgaria so that Barnyashev's family could participate in the special occasion as well.
8. Seems to Be a Big Fan of Travel
Some people like to stay at home. In contrast, other people are avid travelers who enjoy new experiences in new places. Perry seems to be one of the latter, as shown by her expressed enjoyment of her experiences with visiting the Czech Republic as well as a number of other countries situated in other parts of the world. Considering the travel demands of her job, this definitely seems like a useful quality to have.
9. She and Her Husband Are Friends with Shinsuke Nakamura
Both Perry and her husband are friends with Shinsuke Nakamura, who performed on the NXT brand before moving on to the WWE's main roster. Besides this, he was very involved with Japanese professional wrestling as well. For proof, look no further than the fact that he was the first leader of the Japanese professional wrestling stable called Chaos, which managed to make quite an impression on the Japanese professional wrestling scene.
10. Enjoys Being an Entertainer
On the whole, Perry seems to be one of those fortune individuals who enjoy their career. After all, she has stated that she was very fond of telling stories even when she was still a child, not least because she liked to make people smile by doing so. Professional wrestling couldn't be professional wrestling without the considerable athleticism of its participants. However, there can be no doubt about the fact that storytelling plays a huge role in its success, meaning that Perry is exactly where she wants to be.
Tell us what's wrong with this post? How could we improve it? :)
Let us improve this post!