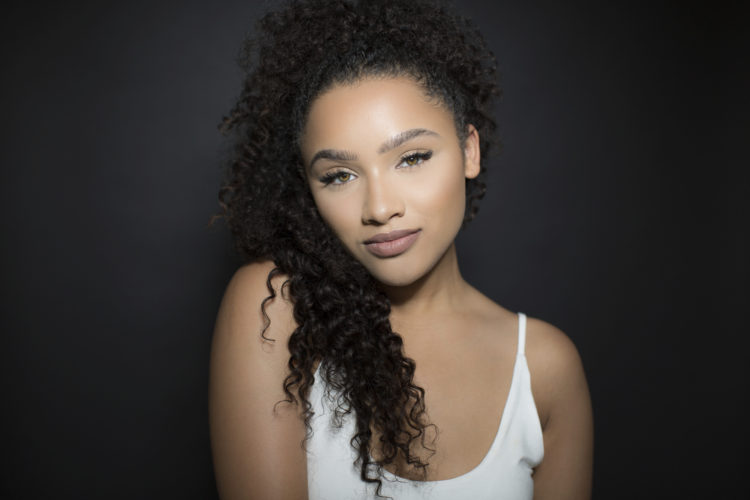 Jaylen Barron stars in the Neflix show Free Rein in the lead role of Zoe, a 15-year-old from Los Angeles that spends the summer at her mom's childhood home on an island off the coast of England. After befriending a mysterious horse during a summer, she finds the strength to deal with issues she faces. The series has already has been getting critical acclaim. It recently won two Daytime Emmy's for Outstanding Children's Series as well as Outstanding Directing in Children's Programming. The show was also been nominated for a NAACP Award for Outstanding Children's Program. Season 2 of the hit series is now streaming on Netflix.
Jaylen is no stranger to the small screen. She's had notable recurring roles on hit shows such as the fan-favorite series Shameless as Carl's girlfriend in Season 6 as well as Good Luck Charlie and See Dad Run. She also has a huge social media fan base including a verified Instagram account of over 144,000 followers.  Luckily we had a chance to ask Jaylen some questions that we thought you'd be curious to read the answers to.  Here they are:
1. What was it like growing up in in Los Angeles?
I love it, the diversity, the people and amazing food!
2. We absolutely love the show Shameless. What was it like working on that show?
It was one of the best experiences. The people were amazing and talented. I learned so much and I carry the fast-paced style of acting throughout my career.
3. You have a very diverse background culturally. Which would you say has had the biggest influence?
I am a mixed raced person; my mother is Mexican and my father, Black so, yes, it's diverse. I don't think within my family no one side is more present than the other. My mom and dad both have brought me up to be proud about everything that makes me, me.
4. Who in your industry do you look up to and why?
Halle Berry is amazing and versatile. I've always looked up to her.
5. How did you land your gig on Free Rein?
I was lucky enough to be casted in LA for this role that would be played in England. Netflix and Lime Productions took a chance on me and I haven't looked back. I am very grateful for the opportunity to play Zoe Philips
6. Who is your favorite actor and why?
I have so many and why is just so obvious when I name them. Halle Berry, Viola Davis, Lupita Nyong'o
7. What's your favorite TV show and why?
I enjoy watching documentaries on Netflix- serial killer docs actually.
8. You're not even 21 yet. What advice would you give to other young aspiring actors?
If it's yours, you will get it- whatever "it" is to you. For me, it's a role and I look at it as- I do my best, make it hard for them to say no to me and if it's for me. I will get it.
9. Got anything in the pipeline we don't know about?
I have a couple projects I'm working on and if you follow me on IG and Twitter I have updates on all my projects.
10. If you could achieve one thing as an actress what would it be?
So hard to answer! there are so many things I would like to accomplish but mostly I just want to bring joy, drama, and great acting to people everywhere.