After watching last weeks not so fast and furious episode, I was a little dissapointed yet still optomistic about this weeks episode. With the way the season is going, Burn Notice tends to be amazing one week and slow and tedious the next week. This week continues that trend and puts itself into the running for quite possibly the best episode of the series.
The storylines this week were drawn out greatly by the characters focused on each. First of the main story line focused on Jesse and Michael's quest to have their burn removed so they can go back to working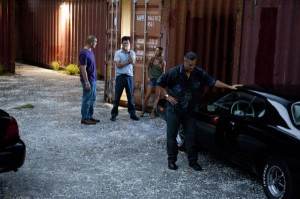 for the CIA again. I still have yet to see a form of Jesse I like, but at least this week he was shown in small doses so I could tolerate him. Also with this story, we saw the return of Marv (played nicely by Richard Kind). I loved the way Marv was first introduced this season and I felt alittle sad to see his character killed at the end by a group of fake Homeland Security, but more on that in a minute.
Now, it was the side story this week that I really enjoyed. Sam Axe (played by the talented Bruce Cambell) really had his moment in the sun this week and the acting by Cambell was great. Sam is investigating the death of a cop buddy only to find that a drug conspiracy is wrapped up in this. While that aspect of the story is unoriginal, the writers were able to add great moments to spice it up. My favorite moment of all had to be Michael's "Ring of Trust". I mean how awesome would it be to have talks with people inside a ring of fire. Anyways, back to the Sam story. Sam had such great moments in this episode that really makes you feel for his character.
The end of the episode really got me going, and I am assuming that other viewers are jacked up for the 2 hour season finale next week. After watching Marv get murdered, Michael notices that Tyler Brennen is back and is going to be wrecking havoc on Michael and the gang. Now that might be enough for some but there is actually another blast from Mikey's past that will resurface next week.
After a horrible week last week, Burn Notice comes back this week with guns blazing and surpasses many of the episodes in the series. A
What did you think of the episode this week? Sound off in the TV Overmind "Ring of Trust" commment section below.
Tell us what's wrong with this post? How could we improve it? :)
Let us improve this post!