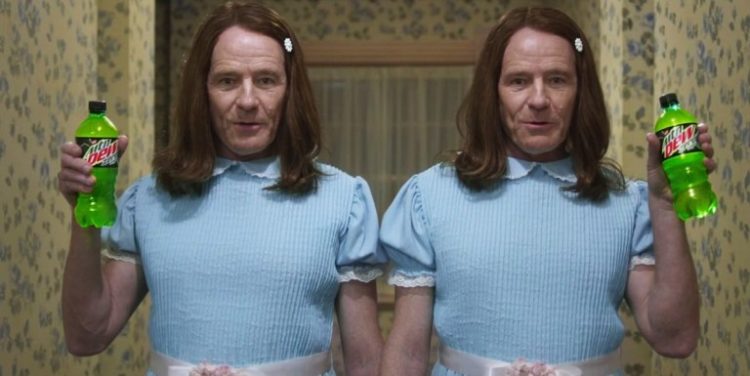 Of all the things creepy and weird, Bryan Cranston as the twins in The Shining definitely ranks up there no matter if it's a Mt. Dew commercial and meant to be silly. Thankfully Cranston is great at this anyway since from his earliest days of his career he's been able to take on pretty much any role he's been given and still be great. What's amazing is that for so long he wasn't really thought of in any special way until he reached a big milestone in his career as Hal in Malcolm in the Middle. By that time he'd been in show business for quite some time, taking on one role after another as he continued to hone his craft and rack up one credit after another. Maybe it's because of the outrageous nature of Malcolm in the Middle that he was finally noticed, but whatever the case he finally hit a huge upswing in his career and went on to become one of the most memorable figures in pop culture history when he took on the role of Walter White in Breaking Bad. If any show has the ability to make him stand out as a legend it's this one since the saga that saw him go from a mild-mannered chemistry teacher to a serious meth dealer was nothing short of brilliant, as well as disturbing in many respects.
Since his time as Hal and Walter White his star has been continually rising and as such he's been seen in a number of movies and even guest-starred on several shows throughout the years. Whether he's the good guy or the bad guy it doesn't matter, it's just good to see him since he's such a great actor. In this commercial though it's a little creepy despite the fact that it was part of a Superbowl ad that was run up to and well after the big game. It's also a credit to Cranston's ability and temperance that he doesn't simply say 'no' to stuff like this since it means that he's willing to do a lot but also still has some integrity as an actor. Let's face it, if actor's aren't willing to do just about anything for a paycheck, shy of absolutely humiliating or actually harming themselves, then they're not really sacrificing much on screen for the fans. That's debatable obviously but the point is that some of the greatest actors know how to poke fun at themselves and look kind of silly at other times without losing face in any way. Cranston is the kind of guy that's gone on screen in nothing but his socks and underwear repeatedly and been as professional as he could be, so it's fair to say that the guy is hard to rattle when he's in character.
When it comes to The Shining though the movie did see a small bit of resurgence when Doctor Sleep came around, as it featured Dan Torrance, the son of Jack Torrance, as the main character. While critics didn't appear to care for it much I can personally say that I enjoyed the story if only because it brought an end to a nightmare that King devised so long ago. The Overlook was an old, very demented thing that had seen far too many years and been allowed to exist for far too long thanks to the ignorance of the owners and operators, and using it as a staging ground for a final battle between Dan and Rose the Hat was a perfect way to go out. Sezin Koehler of Looper has more to say on this matter. It's regrettable that Dan had to die in order to pay the debt he owed, but at the same time it was a fitting end that differed from the book as by the end of the novel Dan survived. Of course not much of this has anything to do with the commercial, but waxing on and on about The Shining is far too easy, especially when any representation of the Grady twins is involved. One thing is absolutely clear, if Bryan Cranston had been tapped for this movie back in the day he would have been great, though it's likely that he would have been seen as too young or not seasoned enough, thereby destroying that fantasy. If we could take Bryan Cranston of today and plug him into The Shining though, hoo boy.
Cranston is definitely an individual that is taken too lightly at times considering his level of talent. It might have taken a while for people to really notice him, but thankfully his time has come before it's too late and he's too old to do that much. What he's done as of late and in the past couple of decades has been nothing less than astounding, so it's easy to see how he finds the time for stuff like this.