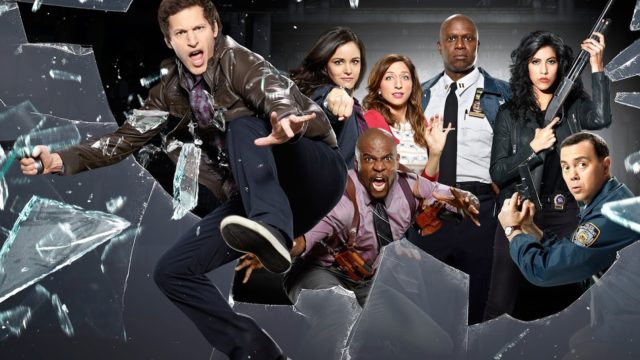 There have been a lot, and I mean A LOT, of cop shows that have graced various stations throughout TV history, but one among them has managed to be both funny and entertaining for the last four seasons. I'm definitely not talking about a new version of Dragnet, but now that I think about that might not be a bad idea down the road. Anyway, one of the absolute top shows on TV right now is [easyazon_link identifier="B0723H1NN3″ locale="US" tag="tvovermind00a-20″]Brooklyn Nine-Nine[/easyazon_link]. It's almost like a spoof of Law and Order without the Order. It's been a popular show since debuting four seasons ago and it's all set and primed to return with season five this coming September. What's going to happen though is anyone's guess, but we do happen to have at least a couple bits of news.
Lou Diamond Phillips and Tim Meadows are joining the cast.
There might be those of you that don't really remember these actors considering that they've both got a long history of TV appearances that kind of took over what used to be a successful film career. These days both actors are getting a little older but no less talented as they continue to practice their craft by taking on whatever roles they can find. Phillips was actually just featured in the latest season of The Ranch with Sam Elliott and Ashton Kutcher, while Tim Meadows has been popping up here and there since his appearance in Grown Ups 2. Neither actor has really been hurting for work, but their inclusion as recurring characters could actually help their careers to even out a bit.
Meadows will play the part of Caleb, Jake's cellmate.
Remember how Jake and Rosa got set up for the bank robbery? Yep, he's still in jail and he's still in a heap of trouble. Not only do cops not tend to well in jail, especially in movies and TV, but his cellmate Caleb is a cannibal. Of course in true Nine-Nine fashion this is going to be played out to be as funny as it can possibly be with Jake and Caleb no doubt getting along at one point. The only real issue is that both of them will eventually be taken out of protective custody and thrown into general population. You know, where word of a cop being in prison can spread like wildfire? Yeah, Jake might be in a pickle at that point. Plus, Phillips will be playing an erratic criminal mastermind that Jake will cross paths with more than once in the coming season. So Jake's going to have a LOT of fun! Cue the sarcasm.
Anyway, [easyazon_link identifier="B00GTZWS5A" locale="US" tag="tvovermind00a-20″]Brooklyn Nine-Nine[/easyazon_link] is going to be coming back in late September so you'll have to hold onto your funny bone until then. Jake and the crew will no doubt work up a way to get him out and back on the job so that he can possibly find a way to clear his and Rosa's names and take down the person that did this to them.
Hilarity and jokes will be included of course.
Save
Tell us what's wrong with this post? How could we improve it? :)
Let us improve this post!