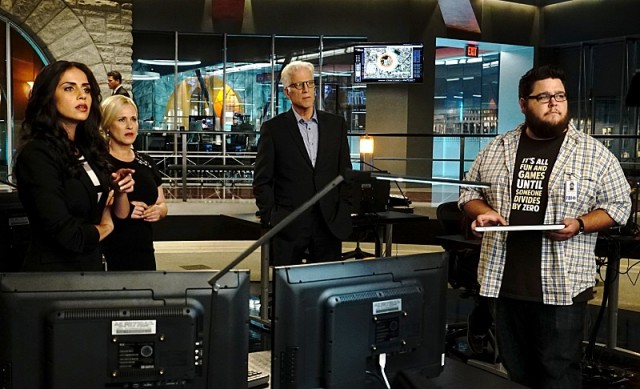 The fun, innocent treasure hunts that we used to have as children are not so innocent anymore as one takes a frightening turn in this week's episode of CSI: Cyber. The team finds an online, user-generated fan site for a horror meme character called Red Crone. Kids are lured to a designated location (an abandoned theater in Stony Creek State Park in Richmond, Virginia) via an application called Eye of Red Crone, which can decipher messages when the device is pointed at what is called "trigger images" that will reveal the next location of this twisted cyber treasure hunt.
I liked some of the graphics used in the Eye of Red Crone application, especially the blackbird compass and the interactive aspect of it when Team Cyber arrived at the rotting tree and found the eye carving. The fact that it's split into two perspectives, one from a child's and one from an adult's (to prevent them from finding their children), much like a multi-linear narrative, was very nicely done. I wasn't too fond of the Red Crone drawing, though; it's going to take me a while to get that image out of my head. Thanks for the nightmares, CSI: Cyber writers!
Later in the episode, the Red Crone is revealed to be a man named Oliver Crispin, a court illustrator who turned out to be a script kiddie, an unskilled hacker who uses programs and exploits that are written by others, and a noncontact pedophile. Crispin hacked into an unpopular children's gaming application called "Panda Pavilion" to create the Red Crone fan site for children to find, using the mythology of the Red Crone to satisfy his own demented, pedophilic urges, which just made my blood boil.
Good thing that Team Cyber was able to find Timmy, a boy who passed out from minor blood loss before he got too far into the hunt, and the two boys Jacob and Luke Sullivan, who made it to the old theater where Oliver was waiting for them. Oliver was also arrested for his crimes after being punched by Agent Mundo, who was acting on the fact that, aside from being an agent, he is also a father. I'm just glad that no one was physically injured (except for Oliver, of course) or worse.
It also looks like Nelson and Raven's secret has been found out when Agent Ryan notices the two came into the office after leaving on separate elevators, which neither seemed to do before. The former behaviorist decided to let the relationship run its natural course before taking action, which I applaud her for doing. Must be nice to have a boss like Agent Avery Ryan; she's tough, but fair, like the infamous name partner in the best New York law firm that we all know. Yes, Harvey Reginald Specter, we're talking about you.
The scene where D.B and Agent Ryan were coming up with a good pairing name for Nelson and Raven was funny. The ones that D.B came up with didn't seem to roll off the tongue. I was liking Nelven until Agent Ryan came up with Braven (Brody + Raven). Now that is a much better name for them than Nelven. I also became a little nervous for D.B when he was practicing his conversation openers before he goes on his first official date since his divorce. He may not be a big fan of online dating, but he should at least work on his conversation skills when he goes out with a woman. Hey, maybe he and Agent Ryan could get together since they have great chemistry together at work. It works for Nelson and Raven; why not them? They can be called Davery (D.B and Avery) or something.
The part of "Red Crone" where Agent Mundo was talking to his father, Calvin Mundo (guest star Gregg Henry), about beating cancer by paraphrasing what the elder Mundo had said to the younger Mundo was very heartwarming. Agent Mundo cares about his father a lot and doesn't want to see him succumb to this terrible disease.
This was an interesting episode of CSI: Cyber. Raven is planning to get her high school diploma (which means that Nelson was worried for nothing when he saw a text from someone named Henry on Raven's phone), and I laughed hysterically when Agent Krumitz told Agent Pierce that his name was Krummy instead of Krumitz. Looks like the nickname that Nelson gave him is starting to grow on him. Right, Krummy?
[Photo credit: Richard Cartwright/CBS]