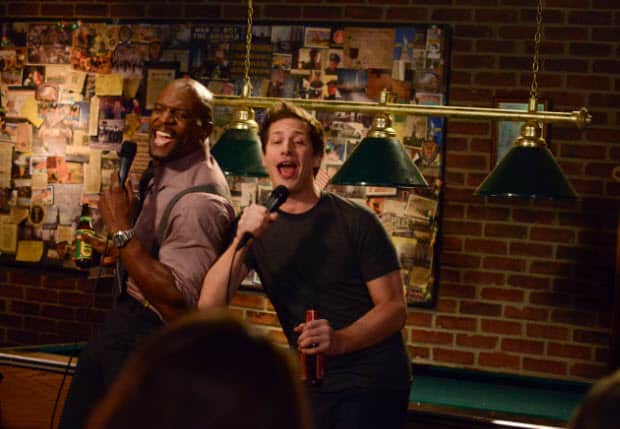 Last night's episode of Brooklyn Nine-Nine was solid. It didn't have me laughing as much as some of the previous episodes, but was still solid in tackling some of the unsolved plotlines head on before the season wraps up. I enjoyed "Unsolvable" because I thought that it nicely put the focus back on the squad being cops with minor references to the personal, more long-term, storylines. Despite being absent of some solid one-line jokes, I really enjoyed all of the separate stories in last night's episode; Peralta tackles the unsolvable case, Santiago lies to Holt, and Diaz and Gina decide to show Boyle their secret peaceful bathroom.
It was great watching Peralta be a cop, because when he actually focuses, he's the best. The episode kicks off with the announcement of Peralta setting a department record of 23 solves in one month, and he's about to get a break from work until he discovers that Santiago is taking a romantic weekend getaway with Teddy, as they are apparently, "taking things to the next level in their relationship." It stinks watching Peralta have to be only a friend to Santiago, but I can't complain when he uses his job to distract himself. Seeing Santiago and Teddy drives Peralta to attempt an unsolvable case that he and Terry covered eight years ago; hoping that with new technology they can discover some new leads even though the only evidence is the finger of a person and half of a burnt up body. We get to see him and Terry team up like their apparent old days (oh god their outfits) and Terry also is getting more involved in the out of the office cases, which is what I want to see! Of course Peralta literally stays up the entire weekend, but he does end up solving the case, and whether it's because he is a great cop or determined to take his mind off of Santiago is unclear, but a mix of the two seems to bring out the best of Peralta.
The side plots of Brooklyn Nine-Nine, like usual, brought us back to some minor office shenanigans taking place without Peralta and Terry. I actually liked the side story that featured Gina and Diaz revealing Babylon, their secret lavender smelling bathroom with a zebra-striped rug and triple ply toilet paper, to Boyle when he's trying to sort through his moving problem with Vivian in the storage closet. I think it's great how they are handling the Diaz/Boyle dynamic moving forward, and "Unsolvable" showed that the characters can function as just friends. Gina worries that Boyle is going to blow the secret, which he does after being bullied by Hitchcock and Sully, but Diaz (opposite of her normal fiery temper) was just glad to have helped make Boyle's horrible life, a little better; and hey, Gina even gets the bathroom back by trading her desk chair and wolf blanket to Sully and Hitchcock, taking the blame off of Boyle.
Santiago's plot was definitely the least creative or interesting, but they needed to give her filler after trying to send her away with Teddy in order to drive Peralta and the main plot. She realizes that she committed to help Holt with a Community Outreach Program, but decides to lie in order to get out of the situation and have her vacation weekend with Teddy. It was definitely out of character to have Santiago lying to her boss, but it just seemed like flat filler and didn't do much for me. She eventually gets caught in her lie when Holt has scheduled a dental appointment with a personal friend of his that he will even drive Santiago to. This was really predictable and seems like a basic plot for Santiago.
However, the episode ends strongly when everyone comes together at the bar. Terry gives Peralta a huge toast for solving the unsolvable case, but he can tell that Jake just isn't into it. He confronts him about something being wrong, and eventually is brought into the fold about Peralta's feelings for Santiago and having to watch her with Teddy. In the episode's final moments, Terry shows some of his parental side and cheers Peralta up by reinforcing the general theme of friendship; telling him to relax and come have a drink with his friends, which always makes things at least a little bit better.
My Moments of the Night:
– Holt torturing Peralta by telling him the truth was a good and funny opening.
– Peralta's favorite musical artist is Taylor Swift.
– It worked out that Gina got to trade her wolf blanket away, because now she's into evil unicorns.
– The "Whatta Man" dance at the end was easily one of my favorite moments of the first season.
What did everyone think of last night's Brooklyn Nine-Nine episode? Drop a comment and let me know what you thought of "Unsolvable"
[Photo via Erica Parise/FOX]