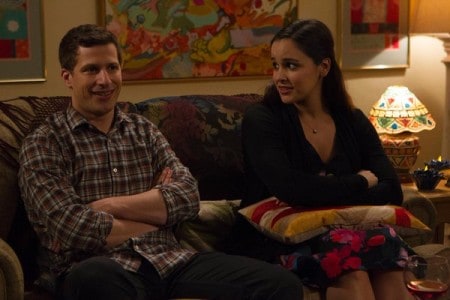 In last week's episode of Brooklyn Nine-Nine we saw Jake open up and take a big step forward in his relationship with Amy by finally telling her that he loves her. This week, it looks like they'll be taking another step forward in that relationship, when Jake decides to introduce Amy to his mother (played by the lovely Katey Sagal) on his birthday. While Jake hasn't held back in talking about his dad throughout the series, he has barely mentioned his mother at all, leaving a big question as to what kind of relationship he has with her. Not only will this be revealed, but we'll also get to see Amy try to impress Jake's mother in true Amy fashion. She is constantly seeking approval from those she respects and my guess is that she will spend most of the episode trying to win that approval from Jake's mom.
The big question is, what will happen when Jake's father makes an unexpected appearance on his birthday? With both parents in the room at the same time, things are sure to get interesting. Jake has never had a good relationship with his father and while we don't have many details about his mother or his parent's marriage before he walked out on them, there's a good chance a lot will be revealed in tonight's episode. As a father who has never been there for his son, I'm guessing Jake will not be thrilled with his father's timing.
Meanwhile at the precinct, we have a lot to look forward to as Rosa and Charles struggle with using body cams, somehow hilariously ending in Rosa seeing Charles' naked. The promise of these two on a stakeout with Terry is guaranteed to bring some good comedy. We will also see Gina drop the ball as she fails to inform everyone else about one of Holt's important plans. While Gina doesn't seem to take much pride in her work, she truly does care at the end of the day and making a mistake like this could easily have an effect on her.
Brooklyn Nine-Nine airs Tuesdays at 9:00pm/8:00pm central on FOX. Check out a sneak peak of tonight's episode below.
[youtube https://www.youtube.com/watch?v=pGKuT7wKk_s]
Tell us what's wrong with this post? How could we improve it? :)
Let us improve this post!