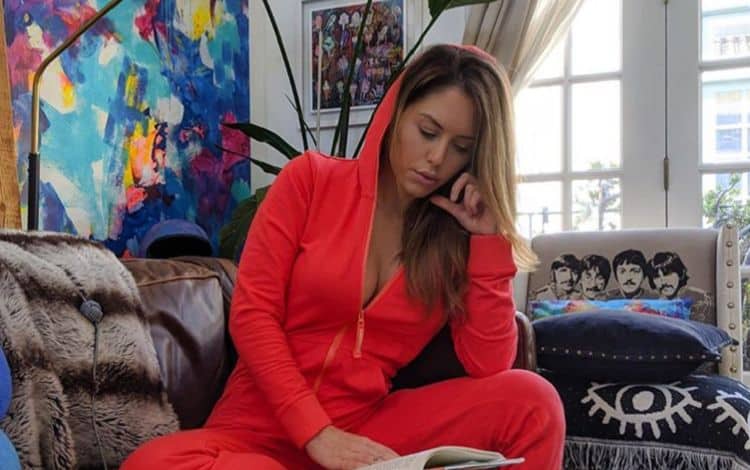 Sure, there are some things that just about everybody knows about Brittney Palmer, like the fact that she's a super-popular UFC ring girl and that she's incredibly beautiful. Her birthplace is San Diego, CA and she was born on June 24th. Her sign is cancer, which is a water sign. That means she loves the water and would probably love to live on the water, either waterfront or on a boat, more than anywhere else in the world. MMA is very popular in her home own so that probably made it the perfect fit for Brittney. Perhaps you didn't know that she's currently returning to the ring and is also going to be gracing the Octagon's exterior as well. In addition, we discovered some fun facts about Brittney that most people don't know, including:
1. She's Very Talented & Musically Inclined
Not only is she a talented artist but she's also a pretty great singer. In addition, she's continuing her quest for the talent within her by attending art school. In fact, that's the reason for her hiatus from the UFC, to further her art in art school. If you would like to commission a Brittney Palmer original of your very own, just go to her website at http://www.brittneypalmer.com/ and sign up. She also has excellent taste in music and some of her faves are Hendrix, Bob Marley, Sinatra, and the Stones.
2. She Started Her Own Clothing Line
She's quite the entrepreneur and her line is called "Stone Free" It's available thru Jakt Apparel.
3. She's Really Into MMA
When she was interviewed by FC Fighter, Brittney disclosed that she had been training with Shawn Tompkins for quite a while now. She also said that she had a training session recently with Kenny Florian, a UFC lightweight.
4. She Has Tattoos
Not a lot of them but just a few. They include a tattoo on her lower back, her right hand, her shoulder, and a few others here and there.
5. She's a Gamma Labs Spokesperson
In fact, she's done numerous videos lately for the company. It's a company whose headquarters are in West Babylon, NY. They make an all-natural sports energy drink that's both sugar and gluten free called GFUEL, numerous workout supplements, testosterone replacements, and more.
6. Fave Foods, TV Shows & Turn-Ons
Everybody has their own favorite foods, right? Well, Brittney's faves are pretty exotic. They're, of course, sushi and tapas. Tasty and healthy. And, Brittney says that jer turn-ons include talent, ambition, and a good sense of humor. Guess that's why her favorite TV show was "Entourage". Too bad it's not on anymore but bet she loved the movie, like many audiences did, well, except the critics.
7. She Originally Started Her Career as a Dancer
Yes, sir, that was onstage and in Vegas. Before Brittney was a ring girl, she danced at a club on the Las Vegas strip. Bet you're sorry you missed that!
8. She's a True Fan Favorite
Nobody could ever dispute the fact that Brittney is the UFC's top ring girl. And, in fact, she's so darn popular that recently she was named "The Hottest Woman in MMA" today. She's also been featured in Maxim magazine and when asked if she would do Playboy, what do you suppose she said? Well, yes, of course, although she did qualify that by saying that, she would want the spread to be related to her art. She further stated that she would like to do something where she was covered in paint. Bet that would sell a whole lot of magazines.
9. She's a Calendar Girl
Cue the Neil Sedaka song for Brittney. And, it's not just any calendar either. She has her very own swimsuit calendar ands it's available on her website.
10. Hello UFC 140!
So, the good news for all of you Brittney fans out there is that it's now been confirmed by both Brittney herself, as well as by Dana White, that she'll be heading back to the UFC for the upcoming UFC 140 in Toronto. And, who doesn't look forward to the opportunity to see her gorgeous smiling face ring-side again? Now that you know a little more in-depth background info about Brittney Palmer, you can see her as more than just a pretty face with a fantastic body. Or, maybe not.
Tell us what's wrong with this post? How could we improve it? :)
Let us improve this post!