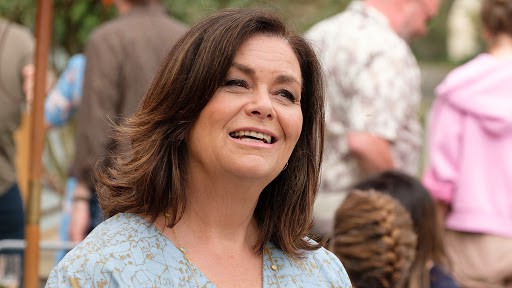 With a career that has spanned the course of five decades, Dawn has been acting professionally for longer than some of her fans have been alive. In an industry where just making it is hard, Dawn has found a way to make it time and time again. The longevity Dawn has found in her career is a true testament to her talent, her hard work, and her ability to play a wide range of characters. Most recently, Dawn starred in the series The Trouble with Maggie Cole which originally premiered on the British network ITV but has since been picked up by Amazon Prime for viewing in the United States. Continue reading for 10 things you didn't know about Dawn French.
1. She Lost Her Father To Suicide
Dawn had a very close relationship with her father, Denys. She cites him as the person who helped her learn how to believe in herself and be confident. Sadly, Denys suffered from severe depression and when Dawn was 18, Denys committed suicide by inhaling car exhaust fumes.
2. She Admits She Was Once Jealous Of Her Friend And Collaborator, Jennifer Saunders
In addition to acting, Dawn French is also well-known for being a comedian. She and Jennifer Saunders have been friends and frequent collaborators for several years, but in 2016 Jennifer released her own project, a movie called Ab Fab. The film was a huge success. During an interview with The Big Issue, Dawn admits that she was a little jealous of her friend's success at the time.
3. She's Dealt With Body Shaming
Although Dawn was raised to be a very confident person, that doesn't change the fact that she's had to deal with lots of people who have tried to tear her down over the years. Dawn has repeatedly been the victim of body shamming, but she has taken the cruel things that people have said about her and included it in her comedy.
4. She Wanted To Be A Teacher
It's hard to imagine Dawn doing anything other than comedy and acting, but that came very close to being the case. Dawn attended The Central School of Speech and Drama in London where she studied to become a drama teacher. However, as luck would have it, she met Jennifer Saunders and the universe had other plans for Dawn's career.
5. She's An Author
Dawn is one of those people who seems to be good at almost everything she attempts to do. On top of the success she's had in acting and comedy, she is also a best-selling author who has released several books. Her seventh and most recent book, Because Of You, became a Sunday Times Best Seller immediately after its release.
6. She Loves Interacting With Her Fans On Social Media
It's a fact that no celebrity would be there they are without the support of their fans. This is something that Dawn French has never taken for granted. She appreciates all of the people who have stuck by her throughout the years. Dawn loves getting the chance to interact with her fans on Twitter.
7. She Has Strong Feelings About How People Who Work In The Arts Are Treated
Even though most people love to consume the arts, people who work in creative fields are often undervalued and seen as less than. This mindset really bothers Dawn and she discussed it during an interview with The Guardian. She said, "I feel massive, genuine grief about what is going on in the arts. I didn't know we were regarded as so unimportant by the government. I'm just so shocked."
8. She's A Mother
Dawn has been married twice. During her first marriage, she and her husband Lenny Henry adopted a child together. Her daughter, Billie, found herself in some legal trouble in 2020 when she was charged with harassing an ex-boyfriend via email. She was sentenced to eight months behind bars.
9. She's A BAFTA Nominee
As a person in the entertainment industry, there is almost nothing more rewarding than winning a major award for your hard work. In 1997, Dawn won a British Comedy Award for Best TV Comedy Actress. Dawn has also been nominated for several awards during her career. Most notably, she has received seven BAFTA nominations.
10. She Likes The Simple Things
Even with all of the years Dawn has spent in the entertainment industry, she has never been the type to get caught up in all of the flashing lights. Instead, she's always preferred the simple things. She told Hello Magazine, "I like the washing machine going, a cake in the oven, time to read. I don't feel things like, 'Ooh, I haven't seen Japan yet,' or 'I haven't directed a film.' I don't feel like I'm failing at all the things I should be doing. I'm not very adventurous. My dream day is a pasty and a book, and I rarely get the chance for that"
Tell us what's wrong with this post? How could we improve it? :)
Let us improve this post!