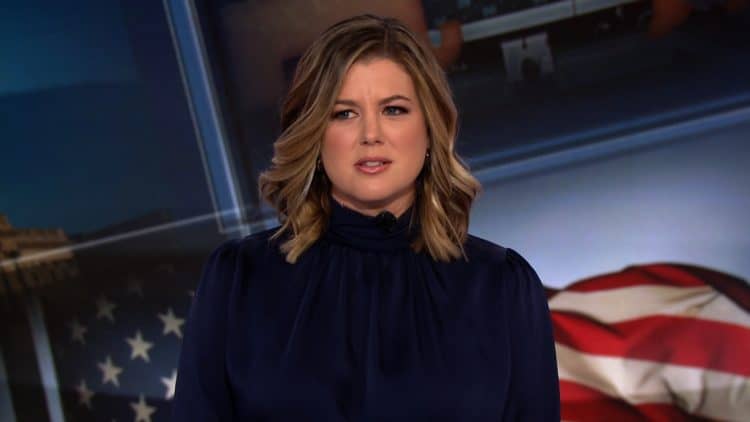 Brianna Keilar an American journalist who is best known as the anchor for CNN in the Washington DC bureau. She has a fact that most people who watch the news are familiar with as she's had years of experience in her chosen profession. Brianna has had a very interesting life so far, and there is little doubt that she'll continue to have some adventurous times as she uncovers current news stories and scandals. While she's busy reporting the news, fans of hers may not realize that she's had some unique interactions with others throughout her career in media, but she's also a person like the rest of us, with a life outside of work. To help you become better acquainted with her as a human being, here are 10 things you probably didn't know about Brianna Keilar.
1. Brianna reports on matters of national concern
Keilar occupies a very important position in the world of journalism. She reports on the current news involving the White House to keep the public informed about what is going on in our nation's capital. The news that she reports on is of concern to every citizen of the United States of America. This is an awesome responsibility.
2. Brianna is a former congressional correspondent
Before she started covering White House news, Brianna Keilar reported on the activities which took place within the Senate and the U.S. House. She served as a congressional correspondent. It was her responsibility to follow up on news stories such as the 2008 financial crisis and associated activities.
3. She is an award-winning journalist
Keilar has received awards and recognition for her superior and accurate reporting of pertinent news stories. She received the National Press Foundation's Everett McKinley Dirksen Award for Distinguished Reporting of Congress for her reporting of the 2008 bank bailout, amounting to $700 billion.
4. Brianna won another award in 2014
Brianna Keilar reported on stories from around the globe. She also covered news breaking when the Obama administration was in office. One story that she covered in depth was the government shutdown, which earned her a great deal of admiration and another story she followed was Obamacare and the controversies surrounding the national healthcare plan. In 2014 she was honored with an Aldo Beckman Memorial Award. This recognition was given by the White House Correspondents' Association.
5. Brianna has reported on a broad range of topics
Throughout her career, Brianna Keilar has covered a lot of different types of news stories. She hasn't always served as a White House or Congressional correspondent. She had to work her way up to this honor. Prior to reporting on Congress, she was a more general correspondent reporting on breaking news stories as they occurred. For example, she was the first CNN reporter to arrive after the 2007 Virginia Tech massacre.
6. She started her career in San Francisco as an intern
Brianna Keilar's first post in journalism was as a production assistant. We all have to start somewhere and when she first began, it was as an intern. She fulfilled her internship at the CNN and Fox affiliate KTVU-TV in San Francisco. This was a great way to learn the business from the ground up.
7. Her first reporting job was for a small station
Brianna Keilar was hired as a general assignment reporter in the smaller city of Yakima, Washington at KIMA TV, which is an affiliate station of CBS and CNN. Yakima is located in central Washington in the heart of a farming community, and the area is largely considered to be rural and agricultural. She reported on local stories and events that happened within this rural region.
8. She worked in radio
At the same time that Brianna Keilar worked for KIMA-TV in Yakima, she had another part-time job in journalism. She was also a popular morning show personality for a local radio station, and she was also a weekend newsreader. This was a very good experience in the industry as it helped to lay a sound foundation for what would evolve into a more intense responsibility within her field of expertise. The radio station where she worked on teh "Billy, Blue and Brianna, too: The Morning Zoo" was station KFFM. She was a co-host for the morning drive time show.
9. Brianna's dad is Australian
Brianna Keilar was born in Canberra, ACT, Australia on September 21, 1980. Her father is a Glen Keilar and he is a native Australian. Her mother Miriam was an American citizen. When Brianna was born, her parents were stationed in the country of Australia. They moved to the United States in 1982, when Brianna was just two years old. They made their home in Orange County, California where Brianna was raised and attended High School.
10. Brianna Keilar is one smart lady, and she's a mom too
After Brianna graduated from Mission Viejo High School in 1998, she decided that it was time to enroll in college. She was accepted into the University of California at Berkeley. Brianna has an impressive academic record, graduating in 2001, Phi Beta Kappa, but this wasn't the most impressive part of it. She actually earned two bachelor's degrees at the same time. She majored in Psychology and in Mass Communication. Brianna went on the carve out a magnificent career in journalism from there, but she also made time to marry and have a family. Brianna Keilar and Dave French were married on May 2, 2009, but the relationship ended in divorce. She found love again, and in 2016, she married the National Security Council for the White House director Fernando Lujan. The two are parents of a little boy named Antonio. They welcomed him into the world on June 8, 2018. Keilar is a busy professional and now the busy mom of a toddler in addition, but she is successful in juggling all of her many responsibilities.