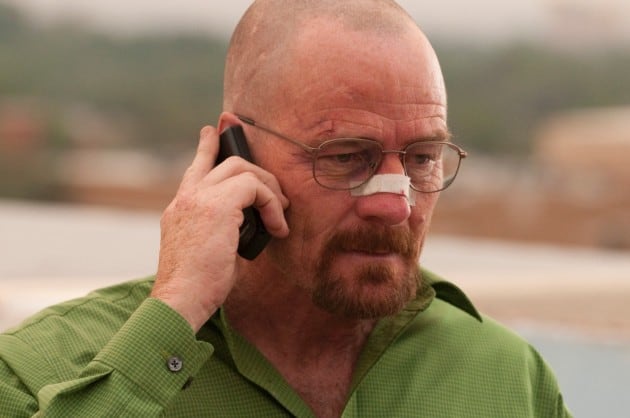 Yesterday, my colleague Paul wrote a piece about how even though Breaking Bad and the character of Walter White are no longer on television, their presence is still felt strongly within the Breaking Bad Reddit community. Reading that article, plus having just completed a re-watch of the entire series from the beginning, has made me not only nostalgic for the AMC series, which ended almost a year ago exactly, but it's also allowed me to reconsider the overall legacy of the show and what worked and didn't work throughout its run. While I will never argue with anyone who says that the last four or five episodes of Breaking Bad, specifically "Ozymandias," are the show's best, I do not believe that the fifth and final season of the show is its finest. No, instead, for the most most important, complete, and overall best season of Breaking Bad, one must look at its masterful fourth season.
Event though season five of Breaking Bad features some of the most memorable moments from any television drama over the past few years (Hank's death, Walt crying out, "We're a family!" and that final scene of the finale), may be as fantastically tense as some of the most thrilling parts season four but, as a cohesive whole, isn't as tightly written. Look at the final sequence of an episode like "Crawl Space," Walt's "I am the danger" speech, or the scene in "End Times" where Jesse points his gun right at Walt's head, about to pull the trigger until Walt lies his way out his death, and you can see the same type of intensity that drives the back half of Breaking Bad's fifth season. However, in addition to these moments of tension and insanity, the fourth season of Breaking Bad also possesses a wildly compelling and incredibly strong central story: the cat-and-mouse game of Walt versus Gus, which holds the season together and allows for these moments to build on each other and exist as more than just a collage of fantastically acted and written scenes.
Furthermore, it says a lot that the ending scene of Breaking Bad's fourth season could have also served as the end to the entire series. While some people were satisfied with Walt's death and some weren't, all fans knew that Walter White's true demise was the degradation of his character, the tragic tale of this "good man" chemistry teacher "breaking bad" and becoming a selfish, vicious, and murderous meth king. With Walt's final words, "I won," closing out the show's fourth season, along with the reveal that Walt was the one who had poisoned Brock, it's clear to the audience that this is no longer the man that we met in the show's first episode. The Walter White of the past is now officially dead–he has been reborn as Heisenberg–and that's the only death that Breaking Bad needed to provide us with.
I'm not trying to criticize or belittle Breaking Bad's fifth season, which I love and still think is one of the best seasons of television that I've ever seen. However, after re-watching and reflecting on this amazing show, it has become apparent to me that the fourth chapter in this brilliant, mesmerizing story is the series' crowning achievement.
Photo via AMC
Tell us what's wrong with this post? How could we improve it? :)
Let us improve this post!