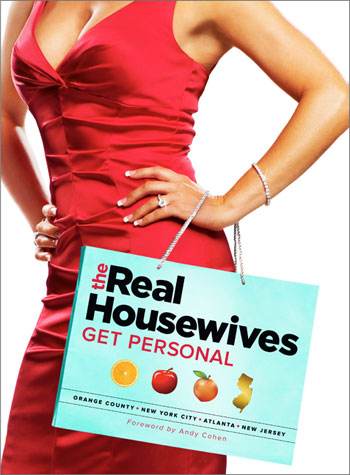 If you would've told me last year this time that I would be writing a review of something related to the Real Housewives franchise, I would've laughed in your face and told you to go to hell afterwards. Well, man, how a year can change you. Why do I say that? Because I am now a bona fide, proud addict of all things Housewives and my addiction kind of knows no boundaries; like salivating over the tell-all book "The Real Housewives Get Personal" when Bravo Producer Andy Cohen introduced it on his Bravo talk show 'Watch What Happens!' When I finally got the book this weekend, I ate it up in two and half days (four hours technically) and wanted more in every sense of the word.
"The Real Housewives Get Personal" looks at the first four series in the franchise (Orange County, New York, Atlanta, and New Jersey) and every woman who has had the dubious honor of 'Housewife status' in the show's five year run. While the interviews and sections on each Housewife sort of didn't serve too many new morsels in terms of their personalities, it did reveal backstories that are either unknown or not known to many fans of the show. Another of the great aspects of this book was the official introductions for each city/section that detailed how each series was developed, how the Wives were selected and the picking of the city for each new spinoff. Insightful blurbs from Andy Cohen and various RH producers (there are a different set for each series) gave a well-rounded view of each particular Housewife or a favorite moment from the show, which either solidified opinions (or raised more questions) of certain Housewives and let the reader know that the producers were just as amazed as the fans were when watercooler moments went down before their eyes. Some of their comments were just as funny and revealing as the Housewives themselves. Here is a quick list of some of the pros that I felt will justify having this book in your collection:
– Andy Cohen's introduction to the book proved to be a delight to read. Mr. Cohen's intro showed how much blood, sweat and tears he (and the rest of Bravo and the RH producers) put into this show and didn't hold back his feelings on several subjects, namely the reunions that he (unfortunately?) hosts after each Housewives season is aired. Reading that Mr. Cohen thought that the RHOA second season reunion was "a little less exciting" after a tumultuous season only made me respect the man even more. He can smell bull crap from a mile away with these ladies and can tell when someone is trying to 'take the high road' when not answering questions. Thankfully he slyly addressed this eye-rolling move in the book, but not to the point of total disclosure.
– Instead of having books dedicated to each specific series/city, Bravo TV and Chronicle Books did the right (and logical) thing of covering ALL of the shows in this one tome. Why is this a good thing? Well, for one, it reintroduced me to the Orange County cast, which I had ditched during the show's first season. The information included in the Orange County section got me up to speed on the series, which just recently finished it's fifth season back in March 2010. So if anyone is a fan of one set of Housewives and curious about another, this is the go to source besides the official Bravo site.
– Again, the interviews and (some) backstories stuck out for me in this book. I actually sort of changed my opinions (but not too much) on some of the ladies after reading their bios and realized that most of them had their 'own' before saying "I do" and signing divorce papers later on down the line.
While I thoroughly enjoyed this book, I had some qualms about it namely, the time stamp for the information provided in the book. For example, the only up-to-date portions of the book are the Orange County and Atlanta sections, while the New York section only covers the first two seasons of its series. After witnessing big season three moments, like the battle between former BFFs Bethenny Frankel and Jill Zarin, the introduction of Sonja Morgan, and Kelly Bensimon's "Scary Island" breakdown, most people will probably look at the New York section in the book as old news and keep it moving. While I know that New York's third season wrapped last month, I felt that the book could've been postponed a couple of months to keep it current to with the other sections. As for New Jersey, it's inaugural season is only covered in the tome, but that's a given since their second season is currently airing on Bravo. Another thing I would've loved to have seen was a blurb talking about the two new series in the works, The Real Housewives of Washington D.C. and The Real Housewives of Beverly Hills, which I thought could've whet the appetites of the fans since there is pretty much little to no information on these two at this point and time. All in all, these two 'setbacks' pale in comparison to the overall book and only makes me hope and pray that a second volume is in the works. My Grade: A
You can find the "The Real Housewives Get Personal" at your local bookstore or order it from Bravo TV or Amazon.com.