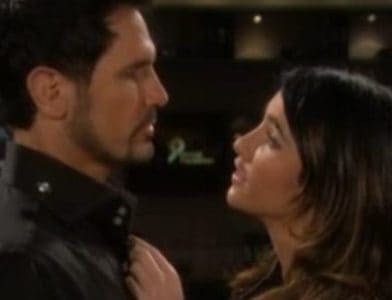 The Bold and the Beautiful fans are not at all amused by the Bill and Steffy situation. It's not a cute one. We know so many people in this show take a chance with the person that is a parent or child to the person they are supposed to be with, but it's a little gross right now. Liam and Steffy are married to one another for the second time, and they need to work through their issues. Well, maybe not. It's not entirely true we feel that way considering just how awful Steffy can be. She's not a good person, and she and Bill would probably do well together.
But Liam's father? That's a little out of line, and she knows it. They are the same person in terms of how much they want to control everything and make it their mission in life to get what they want, but we also have to ask how Ridge would feel to know that his daughter is probably going to end up in bed with his arch enemy?
We don't even know, but we do suspect there is a chance things won't work out in their favor when they have a chance to get to the bottom of things. It will just hurt everyone, and it will be yet another horrible nail in the coffin that is Steffy's relationship with Liam. She already married his brother, so she might as well go for their father, too.