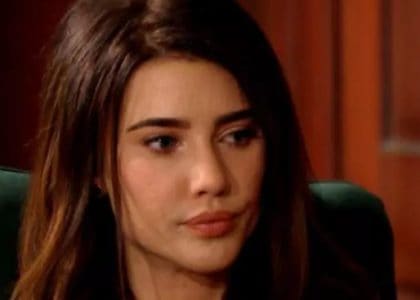 The Bold and the Beautiful fans know how devastated Steffy is going to be when her husband tells her that her suspicions have been correct and that he is messing around with another woman. He has spent his life trying to do things the right way and trying not to be like his father, yet here he is doing exactly what his father would do and making the same poor decisions with women that his father would make. He's just like him, and that's going to upset his wife.
So she's doing the only thing she knows to do and she's going to talk to Bill, Liam's father, about all this. She will tell him that her husband is messing around with Sally and that she was right, and he will tell her that things will improve. And then something will happen and one thing will lead to another and the next thing you know they will be in bed together and the entire situation will be far more upsetting than it's been in the past.
And that is just the beginning. Her husband made out with another woman, and she slept with his father in a moment of need and desperation. She wanted some attention and someone to be with her, and she turned to the man who helped create her husband. This is not going to go well at all, and things will not be very good for anyone at all. And this is all they have to say for one another.