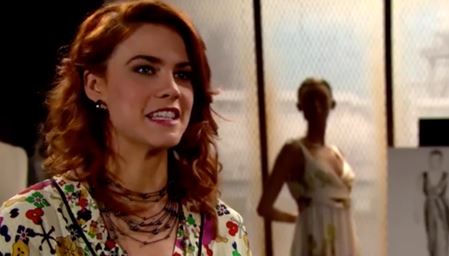 The Bold and the Beautiful is never short on love triangles and bad news for anyone, but it's all kinds of bad news for Thomas and Sally. We discussed with you earlier in the week that they broke up. She decided to put an end to their short relationship after she found out that he recently had a baby with Caroline, and he was devastated when she called it off. He can't believe she would consider something like a baby and a lie a big enough deal to end a new relationship, and then he told he is falling in love with her.
Of course, we think lying — or simply not mentioning in this case — about a new baby is pretty big in terms of deals, but that's just us. We would imagine that many people would be pretty upset if they found out their love interest was hiding a baby and forgot to mention it, and it might make us wonder if that person's declaration of love was actually truthful. But again, that's just us.
But we want to know the real reason this relationship didn't work out — and we have an idea. Sure, we think that Sally is pretty upset about the whole baby thing. We also think she hated hearing her grandmother refer to her as a flavor of the week with Thomas, and we think she wanted to avoid being hurt. But we think the real reason she ended things is her grandmother stole designs from Thomas' family and plans on releasing them as her own. She will be doing this soon, and Sally knows it means bad things for her and her family. She knows it means the Forrester family will be furious, and she knows that when this happens Thomas won't be happy.
It turns out he probably would have ended things with her himself when this happened, so we have a feeling she went ahead and made this decision because she wanted to avoid the pain that might come in the next few weeks.