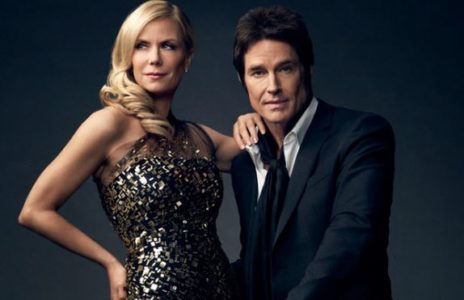 The Bold and the Beautiful spoilers are all about Ridge and Brooke. He's trying so hard to get her to marry him, and she's not having any of it. She's engage to another man, but he's not too worried about that considering they were actually engaged only a month ago. She was supposed to marry Ridge a few weeks ago, but he decided an affair with his stepmother would be a much better idea. It's not, but he's over it now and ready to get his fiancé and the mother of his children back. We don't know that he's going to have much luck with that as a whole, but who knows. He's a resourceful man with plenty of issues to work out of his own, and he'll get whatever he gets.
But he's working hard. He wants to get her back, and he's made her promise she will not marry Bill until she can say with total honesty that she is totally over him. Can she do that? Can she say she's totally over Ridge when they were only engaged to be married a few weeks before when she called off their wedding? She's a woman torn at the moment, and there is nothing good about that situation. She's got a lot to work on in terms of where she is and her relationships with men, but she's also got a lot to work on in terms of her own issues.
We think she needs to focus on her. She's not someone who needs a man in her life, but she's going to make sure she's never alone. She's a little like Ridge. He likes women for the chase, and she just likes men to chase her. She's happy as long as she has someone to love who loves her back. She's willing to reconsider her relationship with Bill over a man who was cheating on her leading up to her wedding day with his stepmom. That's a woman who is desperate for a little love and affection, and she's not finding any of it anywhere. She needs to get herself in order before she makes some big decisions of her own, and we hope she's able to do this. She needs some good female friends and some distance from these men.