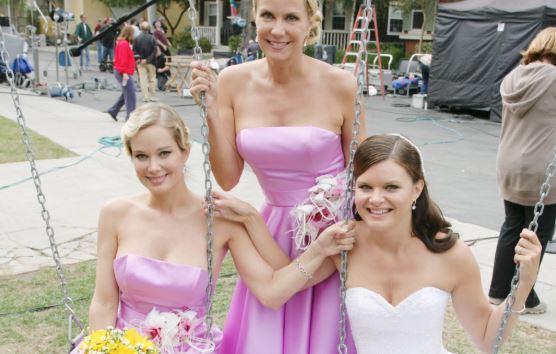 Bold and the Beautiful fans are welcoming a brand-new week with some hope that we will get to see some exciting new episodes this week, and you are not wrong. This week is all about fashion and style and the major issues that families in this show have with one another. The network is referring to this week as Rivals' Week, and we are down for that. There are so many good ones on the show, and we cannot wait to see them happen in real life once again. The first of these rivalry shows is going to show a bit of the Spectra and the Forrester feud, and it's good. It's the show that aired first in 1997 — just before Halloween. It's the day that the cast was on set in Lake Como, Italy where Ridge is worried, Brooke tries to calm him down, Eric and Stephanie are equally as worried, and Sally and Lauren do all they can to make sure that this is a show that does not happen. That in mind, we thought we might go back in time a bit and look at Sally Spectra's issues with this family.
The Knock-Off Brand
The major point here is that the original Sally Spectra — not to be confused with her grandniece — was a problem from day one. She caused issues for the Forrester family not because they ever did anything to her, but because it seems she wanted to be them. She created her own fashion line that just didn't do it. It never quite made it as big or as bold as the one that the Forrester family created. She was a knock-off version of their high-end designs, and she knew it. She wanted to go further, but she couldn't seem to make it happen. So, she constantly did what she could to take down the family in hopes that she could come out on top. That's why she and Stephanie were such mortal enemies from the start.
Her Friendship with the Forresters
There was more than one time over the years that Sally Spectra caused some ugly, ugly situations with this family, including the one that she is trying to work on today. But, that is not the point. The point is that there is something that worked for her and for Stephanie as the years passed by. Perhaps it was their age allowing them to realize that their issues were just not that important. Either way, after many years of trying to kill one another, trying to take the other down, trying to ruin the other's reputation, and so many other horrible things, they become somewhat friendly.
At first, they were more like frenemies. However, it began to grow. They developed nicknames for one another that were not nice at first, but eventually were realized to be sweet and endearing as they began to develop a deeper friendship. Sally had always called Stephanie Highness or Queen, and it wasn't because she thought she was amazing. It was because she thought she was a spoiled princess, but it eventually stuck. Stephanie called her doll and Sal my Gal, and they also stuck. Their friendship ended up being one that worked for them, but it was so much more fun for fans.
The New Sally Spectra
Despite the fact that her great aunt were eventually friendly with one another, she came into the scene a decade after she left for the South of France to see if she could take over her great aunt's business and role. She came into the world with just as much animosity as the rest of the her family, and the tried to do many of the same things. But, much like her great aunt, she eventually realized she likes the family, she feels that they are pretty great people, and she became close to the Forresters after doing some pretty ugly things to them. We think, at the moment, she is devolving again, and she might just cause some bigger issues along the way. But, we will see about that as the days roll on. Either way, the family dynamic is impressive.
Tell us what's wrong with this post? How could we improve it? :)
Let us improve this post!