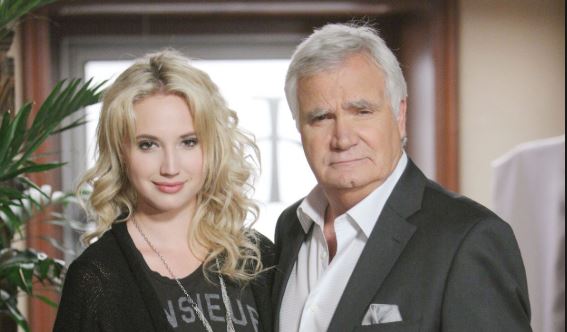 The Bold and the Beautiful fans know that there are some men and women who come and go, and there are others who stick it out for the long haul. John McCook is one of those who stick it out for the long haul. He's been around for a very long time, and he's been playing the role of Eric Forrester for approximately 31 years as of 2018. He's a man who does a great job in the role, and he's a man who will probably be around until he literally cannot be there anymore. Right now, we just want to get to know a little bit more about the man behind the Forrester family and all that they mean to him. What's he like when he's not being the father of a couple of kids who can't make good decisions on television?
1. He's From California
John McCook was born in Ventura, California. He was born on June 20, 1944. As far as we know, he lived there most of his life with his family. We don't know much about that family, however. He's pretty quiet about this life and the things he feels are important.
2. B&B Is Not His First Soap Role
He's 31 years deep into his role as Eric Forrester, but that was not his first role in the soaps. In fact, he's been around longer than you imagined. He spent a long time playing the role of Lance Prentiss on the Young and the Restless. That's where he got his start, but that's not where he is most famous.
3. He's Famous All Over the World
Bold and the Beautiful is a show that films all over the world on a regular basis, and it's also a show that's aired in many countries. One thing that is for certain is that it's a huge show in other places across the world, and he's a very famous star in those countries. Probably even more so than he is in the United States.
4. He's Not That Much Older Than the Original Son He Had On Television
When the show first began, Ron Moss was Ridge. And there is only a 7-year age difference between the two actors. It's funny to us he was his father when they are that close in age. Of course, Moss retired form the role and Thorsten Kaye took over, and that changed.
5. He's Been Married Three Times
He's a man who seems to enjoy being married. He was married to Marilyn McPherson from 1962 to 1971. They lasted nine years together. That's a long time in Hollywood. Then he married Juliet Prowse in 1972. That's not long after his divorce was finalized. He divorced her in 1979. He married his third wife in 1980. So he likes to get married right after his divorces are final.
6. He's Been Married A Long Time
He married his third wife, Laurette Spang, in 1980. That was only a year after he ended his marriage to his second wife. We wonder if there was anything going on before that led to the end of his marriages the first two times based on the timetable of his next marriages. However, he's been married to this 3rd wife since 1980. That's 38 years at this point. He seems to have chosen well.
7. He's A Dad
He's a father of four. His first child was born in 1972 when he was married to his second wife. He other three kids were all born after he married his third and final wife. His first son was born in 1972. His second son in 1981, his first daughter and third child in 1983, and is last daughter in 1990.
8. He's Never Won An Emmy
And to be quite honest, it's strange to us. He's been nominated two times in the entire three plus decades he's been on the show, and we think that there is a good chance he's lost a few shots over the years.
9. His Wife is A Former Actresses
Laurette Spang was the character Cassiopeia on Battlestar Galactica. She's known for her many roles, but this is the one she was most famous for.
10. His Wife Retired
Even though she was acting for a long time, she made the decision to leave the business in 1984. We imagine it had a lot to do with the fact that he was then raising two babies, a stepson, and would eventually have another baby of her own.