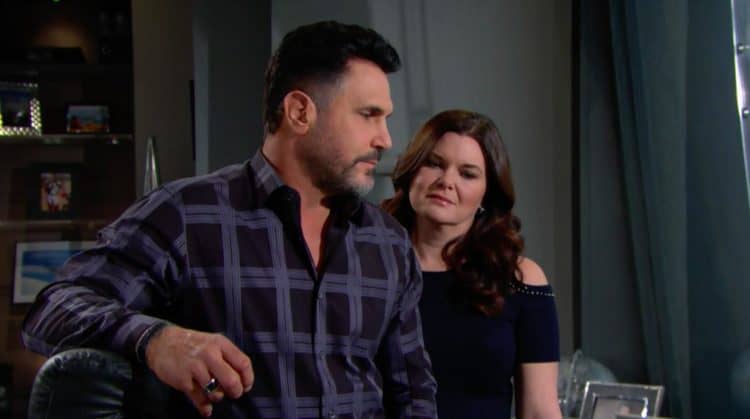 Bold and the Beautiful fans want to see good things happen to their favorite good people this year, but we don't see that being an option for so many. There are just too many things going on right now for us to think that it's possible for so many people. We are talking primarily about the couples in 2020. So many of them want nothing more than to find happiness and peace in their lives, yet that seems to be the last thing that they can find. They seem to be struggling. They seem to be having issues that don't really work for them. They seem to be in trouble. We don't think many of them will make it. In fact, we think most of them will end up hurt more than they are happy, and we want to go ahead and predict who we think will end things sooner rather than later this year.
Eric and Quinn
They've been in their little place of not really in anyone's faces for some time now, and it's their turn to shine. Quinn just played the video of Katie's boyfriend and Ridge's wife making out in front of the entire family at Brooke and Ridge's party to celebrate their marriage being back on track, and we can assume that there is not a second that Eric will appreciate that she did this. He will not find that it is amusing. It's not something he will find at all pleasing. This is his son and his son's wife, and their kids, and their families and the hurt this is causing is a real problem. She might be happy with the job she's done, but no one else is. Eric will continue to find her actions childish and ridiculous until the point that he decides to leave her and move on. In fact, we almost assume that he might just find Brooke at his door before much longer looking to rekindle things as her own form of payback against Quinn. Wouldn't that be something?
Ridge and Brooke
She was harsh when she found out that he made out with Shauna a few times during their separation. We are not saying it was right of him to do that in any capacity, but at least he did this when he was moved out of his home, his marriage was on the rocks to the point they were both signing divorce papers, and he thought his marriage was over. She was making out with a new man the moment that she moved her husband back into the house and they were celebrating their renewed marriage and future. We promise we don't condone Ridge's actions, but at least the woman he was making out with was single. Brooke was making out with her sister's man — again. This is just bad news all day long. They'll never make it. They shouldn't.
Bill and Katie
She's a woman who just got a transplant. Her health is not what it was once in her life. Things are not working out for her. She is a mess. She's got a lot going on that doesn't seem to work in her life, and she's not in a place where she can really do much about it. She's trying to recover, and she's found love again. She's found that the man with whom she fathered her young son is really back in her life. He's pledged to love her forever, to be with her until the end of time, to make things right with her. She's done all she can to make that promise seem real, and she's finally decided that he means it and that he is there for her. Except, he just made out with her sister — the same sister he's cheated on her with more than once — and now things are taking a very ugly turn. She's in the known — freshly — but we don't see it working. He might be able to apologize and get her to believe he's changing and that it will not happen again, but she will ultimately decide he cannot be trusted, and she will end it. Their happily ever after is not going to happen.