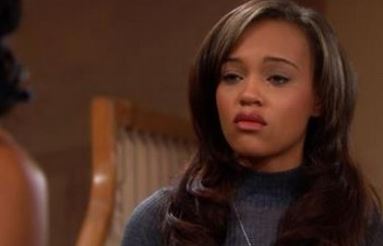 The Bold and the Beautiful fans know most things that happen around here are very well known between most people. You see, no one thinks to close doors, to stay quiet, or to not speak loudly in front of an open door or window. There is always someone listening and making it their point to overhear things or even see things that aren't meant for their eyes. And we have to admit we are a bit confused by all this.
We are going to see there is a chance that Nicole is going to see something she should not. She is going to see the moment when Thorne kisses Brooke, and she is not going to keep that information to herself. Why would she? She has a chance to share it with everyone and anyone who will listen, and she is going to do just that. So she's going to go out and share what she's learned. She's going to tell her sister.
What will Maya think when she finds out that Thorne is moving in on a married woman who just so happens to be spending a lot of time with Ridge? She might not keep this to herself, either. She might just tell someone else. Before we know it, this secret is going to be out for everyone to know. And there is nothing we can do to stop the spread of this rumor. And so many people are going to find out about it.