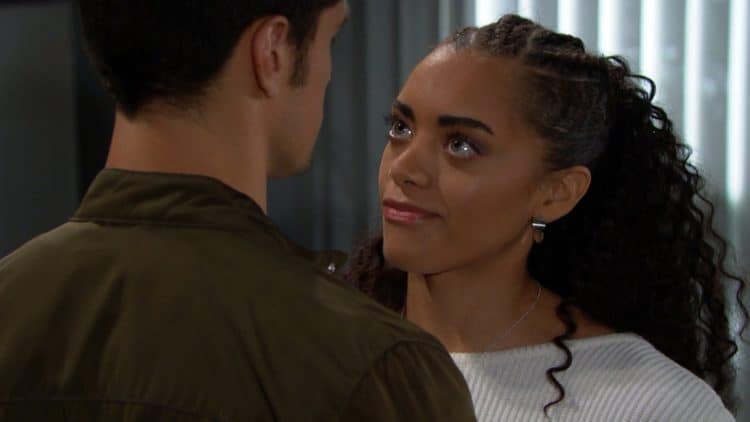 Bold and the Beautiful fans know that there is very little that will go well for Hope as the year comes to a close. She did get her daughter back and her family is together again, but she cannot be satisfied with that. While her daughter was dead in her mind, she was bonding with another child, who has a father and a family, and now she wants him, too. She cannot be satisfied with learning that her daughter did not, in fact, die at birth and have to be buried. Her daughter is alive and well and was being raised by Steffy, though no one knew that this baby was not Flo's all this time. She cannot just have her family and all the things she prayed for and worked on having all those months and be happy. She has to keep going for more, and she's ruining her own life.
She's going to do whatever Thomas wants so that she can have his son, too, and that means she's going to give up on Liam. She will give up on him because we think that she will do anything and everything to get Douglas as her own, even if that means faking that she has feelings for Thomas and wants to have a future with him. We think she will end up sleeping with him, if we are not mistaken, and we know for certain that there is not a chance in the world Thomas will not make sure that everyone in the world knows that she slept with him even though she is with her own child's father at the moment. This will not end well, and we all know this is going to end poorly.
What's Happening on Bold and the Beautiful
https://twitter.com/BandB_CBS/status/1191831796201050113?ref_src=twsrc%5Etfw
This won't end well.
What's Next on Bold and the Beautiful
https://twitter.com/BandB_CBS/status/1191007122839883776?ref_src=twsrc%5Etfw
Thomas knows that he is in the situation that has the upper hand. He knows that Hope will do anything and everything to get his son from him, and he is using that vulnerability in her to get what he wants and to get his way with her. The simple fact that she believes in the things that he is saying to her and still thinks she is playing him is amazing to us, and that's just how things go. We don't know much else about things or what they mean or don't mean to others, but we do know that there is nothing short of a total mess around here to deal with. We aren't sure how to focus on things outside of what is going on here, but we know that he is going to play her until he gets what he wants, which is her misery. He'll get it, too. She cannot fall for this, but she will.
Ridge is going to sit down and speak with Shauna. He has to let her know that he definitely has feelings for her, but he also has feelings for another woman. You know, that one woman to whom he is married and shares a family and a home. He has to make sure she knows where she stands and what he wants from his future, and this is how he is going to do that. We are curious as to what he will tell her, if we are being completely honest.
Stay tuned for more The Bold and the Beautiful and be sure to check out TVOvermind daily for the latest The Bold and the Beautiful spoilers, news, and updates.