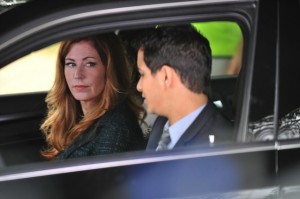 So we got the news this week that Body of Proof has been cancelled, but that doesn't mean that the show is going gently into the night. While the Season 3 cast shake-up may not have been enough to save the drama, Body of Proof has continued to give its audiences well written and brilliantly performed episodes like last night's "Breakout".
The storyline of the unjustly accused prisoner escaping jail to clear his name has been more than adequately covered by screenwriters over the years. However, Body of Proof manages to alter the plot just enough for "Breakout" to come across as an acceptable new spin on an old story.
The episode focuses on what Megan may have missed in her original investigation of a murdered socialite. While at first she appears to be on a list of revenge killings for suspect Robert Riley, it becomes clear that Riley actually believes that the ME is the only witness from his trial that told the truth. He ambushes Megan in her car, professing his innocence and, rather than harming her or an approaching police officer, just begs for her to re-examine the evidence.
Tommy is anxious to keep Megan safe and orders her to be under 24 hour police guard. However, as he well knows, the likelihood of Megan doing as she's told is not strong. Instead, the ME ends up putting her own life and the lives of others in danger as she charges in, attempting to prove that Riley was set up.
Once again it is Dana Delany's ability to convey true emotion that really holds Body of Proof afloat. She empathized with both the suspect and the husband of the victim, Emmett Harrington. However, when the latter refuses an exhumation request, Megan immediately questions his motivation in keeping the evidence buried, connecting his refusal with her mother's similar disinclination to find the truth about her father's death.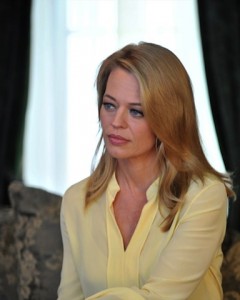 The identity of the murderer was incredibly predictable. The new wife/former under-appreciated personal assistant is definitely not a new idea, but Harrington's reaction was slightly different than usual. He didn't continue acting like the wronged, gullible husband and instead seemed to be able to explain why he so easily believed his second wife's lies. He even manages to think outside his own circumstances in order to offer Kate hope in the form of support for her run for the Senate.
My favorite part of the episode was seeing Megan warm up to Adam after he doesn't simply follow her every command. He tells her that his job is to work "with her, not for her". Megan seems to appreciate his show of backbone, even if he does completely let the cat out of the bag to Ethan about the ME and Tommy's past relationship.
I will be sad to see Body of Proof end. The show had a lot of potential, but seemed to fail because of a lack of solid foundation in plot and characters. If the series had begun from the get go with its current cast I think it may have lasted much longer. As it is, we have one last episode due to air in two weeks. Hopefully they will be able to bring a little closure to Megan in the finale. What plot line would you most like to see resolved?
The series finale of Body of Proof airs May 29th at 10/9c on ABC
Tell us what's wrong with this post? How could we improve it? :)
Let us improve this post!