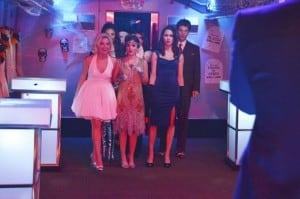 The people of Rosewood boarded the "Ghost Train" in the special Halloween episode of Pretty Little Liars.
The girls – and a few of their boyfriends/girlfriends – headed to Rosewood's Halloween party aboard a moving train, complete with a small concert by Adam Lambert. Unfortunately for them, there were a few bad apples in the crowd, including Noel Khan, Mona and a few masked figures.
One of those masked figured was Garrett, who came to tell Spencer what he saw the night Alison died. Like Spencer knew, he, Melissa, Jenna and Ian were up in Alison's bedroom. Garret went outside with Jenna to let Ian and Melissa talk and Alison spotted them behind the DiLaurentis house. After some taunting by Alison, the girls got into a fight. Jenna picked up the field hockey stick and told Garrett to hurt Alison. Thanks to some subterfuge by Alison, Jenna thinks Garrett killed Alison. Later, Garrett returned to the backyard and saw Alison talking with Aria's father, Byron. That's a new and unexpected player to appear this late in the game. Did Byron kill Alison?!
Unfortunately, when Spencer went to find Aria so Garrett could tell her about her father, she and the girls discovered that Aria had been kidnapped so they split up to find her. One masked figure pretended to be Caleb for Hanna, while another attacked and tried to kill Spencer until Paige showed up to help.
Meanwhile, Aria was trying to escape from her bindings and was shocked to realize that she had been put in a crate along with Garrett's dead body. That's right, folks, Garrett is "A's" latest victim! Just before a mysterious duo dropped the crate off the train, the girls came along and saved Aria. Now the girls realize that two members of the N.A.T. club are dead.
But Garrett wasn't the only dead body found on the train. When Toby and Noel got into a fight, another body was found in a body bag in a crate of ice. And in the final moments of the episode, a girl's hand was spotted trying to dig her way out of a grave.
Pretty Little Liars returns with all new episodes on January 8 at 8:00 p.m. ET/PT. Want some teasers for the second half of the season? Read them here.