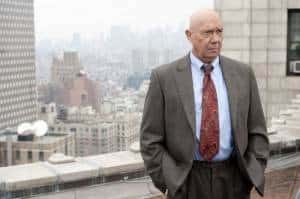 Dana Lewis (Marcia Gay Harden) arrives at Benson's apartment late one night to drop off a rape kit that she doesn't want to turn over to the FBI. When Benson asks who the victim is, Dana replies that it's her. Benson brings in Stabler to help her investigate this delicate situation, but Dana's being less than cooperative because she's still undercover for the FBI and if the rape is connected to one of her open cases, then she's not willing to blow her cover.
She capitulates and brings them to her very swanky apartment (her husband and children are out of town), where the rape took place. She agrees to take them into the field with her – which is at Ground Zero, where a group is protesting building a mosque. Dana ditches them and the detectives pursue them and call in some help from state troopers. They eventually find the van Dana was in, except now it's torched and the driver is dead. The SVU squad notices a connection between Dana's group and the Sovereign Citizen's Brigade, an anti-government group. They decide to investigate the group in order to track down Dana. They meet up with her again after an FBI raid at the group's headquarters, where everyone is now dead except for Dana.
After Dana explodes at the detectives for the way they've handled the case and dismisses them, they return to the squad room to find out her rapist struck again – only this time he killed his victim. Since there's no DNA from Dana's rape, she agrees to work with them to figure out the connection between her and the new victim (Jennifer), in hopes that they can find the rapist. The detectives discover that Jennifer wrote to prison inmates and try to discover a connection between the inmates and Dana. They narrow it down to Seth Coleman and Dana ends up chasing him on her motorcycle, even though Stabler and Benson tell her to stay out of the investigation. There's a standoff and Dana shoots Seth (but doesn't kill him). Because Stabler always gets hurt when Dana's around, the bullet ricochets off a beam and gets him in the shoulder too.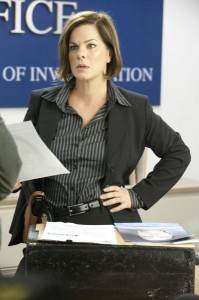 Seth admits to killing Jennifer, but won't admit to raping Dana. After hesitating, Dana eventually agrees to testify at trial against Seth. During her testimony, Benson realizes that Seth called Dana 'Star'- her alias when she was investigating an Aryan brotherhood group and killed the son of the leader (hence the reason Seth went after her – as payback for that whole case). It's a nice way to tie in the former cases Dana has been involved in on the show. We see Brian Ackerman again, the Aryan that Dana put away all those years ago. While Ackerman taunts her about the rape, Dana proves once again why she's tough as nails. She stares him down and tells him she's going to get over, but he'll be rotting in jail and his son will still be dead. Then she turns and walks away.
I've always liked Marcia Gay Harden's guest appearances on Law & Order: SVU. I think she's a phenomenal actress, even though I didn't really enjoy the eco-terrorist case in general. Her performance in tonight's episode was her best one yet. Her breakdown on the stand while recounting the rape is heartbreaking and brilliant to watch. She's such a tough person (and a strong woman), that even through her breakdown you could see her strength. SVU has had a string of fantastic guest actors this season, from Jennifer Love Hewitt to Maria Bello, who appeared last week.
As a continuation of what happened last week, we see that Calvin is now living with Benson after being abandoned by his mother. I really enjoyed Benson's interaction with Calvin at the beginning. She admits that she's looking for his father, so it's unsure how long he'll be in her life, but then the kid disappears for the remainder of the episode. Who does she leave him with when she's working 24/7? Why am I so curious about this? I think her life isn't really conducive to raising a child, especially not as a single parent (which is contrasted with Stabler's family situation). I hope we see more of her relationship with Calvin and how it impacts her life, since it's been pretty obvious that Benson has always been good with children and likely has wanted one of her own for a while now.
Overall, this was a solid episode. Marcia Gay Harden's performance was superb, there were a lot of throwbacks to previous episodes, the courtroom scenes were all top notch and the new ADA is still fitting in nicely. Grade: A
clarissa @ tvovermind.com
twitter.com/clarissa373
twitter.com/tvovermind