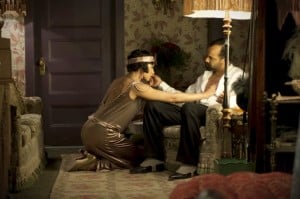 It seems things are starting (slowly) to be put into place as this week's episode of "Boardwalk Empire" advanced our characters into a conflict that while intriguing still feels a little jumbled. Most of the characters plot lines still remain disparate but there is enough time for most of them to merge together succinctly. "William Wilson" doesn't necessarily start that merge but it does make each of the characters storylines more intriguing as smaller conflicts among them begin to surface. Some of these conflicts remain woefully inadequate for a show of this caliber (I'm looking at you Willie), but most are finally starting to pick up some much needed steam (Dr. Narcisse's plans are finally unfolding; Agent Knox's future motivations are now up in the air). "William Wilson" isn't a game changer in any way, but it's a solid piece of serialized TV that sharpens character motivations and moves the plot along at a nice pace.
So while I will get to the good, let's start out with the bad. Season 4's Willie storyline has not worked on really any level for me. Not only do I find Willie to be an uninteresting character, but he also doesn't bring out anything interesting in the characters that surround him. We're seeing a paternal side of Nucky but we've seen that before but done better when Jimmy was on the show. I guess the writers like going down that well as it's an easy way to make Nucky more sympathetic. This episode made things slightly even more infuriating in the Willie storyline by having such overwrought symbolism in regards to the episode's titular Edgar Allen Poe short story by having the teacher of Willie's class make him confront the story's meaning. I'm usually okay with heavy handed symbolism but this was so in your face I couldn't help but laugh.


Enough of Willie though, because most of "William Wilson" was pretty good. We saw Margaret surprisingly run into Rothstein at work, something that was unexpected and made me actually curious for Schroeder's future development. We saw Capone get the go ahead to wack O'Banion (Capone seething for revenge) as Torrio gets arrested right after buying O'Banion's distillery. People who know their history knows what happens next, but I'm still excited to see how the writers portray it on screen. Looking at how compelling Capone's storyline is starting to become, Van Alden seems even more like excess baggage than he usually does. Alden is supposed to act as a sort of audience avatar for the Cicero story, but Capone is more sympathetic and he's a psycho killer. Speaking of excess baggage, Gillian was helped by her good friend Roy to try and end her addiction with drugs. I have absolutely no idea where the writers are going with this (Maybe she'll clean up and compete for Tommy?), but I'm not averse to seeing them completely surprise me (In fact I encourage that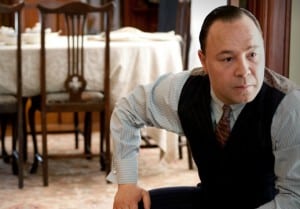 The two most interesting storylines of the episode were Dr. Narcisse's further manipulation and scheming and Agent Knox's change of allegiance or at least lack of allegiance. Both Jeffrey Wright (as Dr. Narcisse) and Brian Geraghty (as Agent Knox) have been nailing every scene they've been in this season. Dr. Narcisse has definitely been underused, but I hope that as this 4th season starts to wrap up we learn more about not only his past but his general ethos. He's a villain with an interesting point of view; I just hope the writers can mine this through the characters action instead of just Bond villain monologues like they have been doing so far. The reveal of Narcisse's violent past with Daughter Maitland's mother is interesting, and like most of "William Wilson" does a good job of revealing small conflicts both among the characters and within themselves.
"William Wilson" = B
Novel Notices
– Interesting to see director Jeremy Podeswa use the iris shot to open the episode. I don't think they've used that since the Scorsese premiere.
– There are some things on "Boardwalk Empire" that I will ways love. Stephen Root as Gaston Means being one of them. The other being Remus speaking in the third person.
– Would love to hear what you think in the comments.