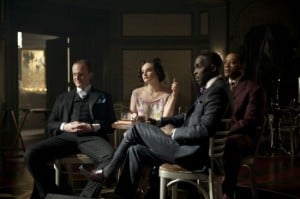 "All of man's troubles come from his inability to sit quietly in a room by himself." — Arnold Rothstein.
Boardwalk Empire's Season 4 premiere "New York Sour" had an undeniable chill to it. Taking place eight months since the events of Season 3's "Margate Sands," the episode focused mainly on how our characters have reorganized themselves. Not all is well on the Atlantic boardwalk and the show's premiere seemed to highlight that while business may be perfectly fine for Nucky Thompson, his heart has become frigid. The shadow of Margaret's decision still seems to loom heavily over him during the proceedings of "New York Sour," an episode that will either mark a new sense of direction for the show or simply serve as a small respite for more of the same to come.
Since Boardwalk Empire's justifiably acclaimed pilot, the show has always seemed to be on the verge of greatness. When it came to the shows' technical merits like cinematography, set design, and direction, it easily stood toe to toe with anything else on TV. It's the well-acted but ultimately lifeless characters that lie at the center of Terrence Winter's problems. "New York Sour" didn't change my position on this, but through Nucky's cold exterior it does convey a sorrowful atmosphere absent in much of the shows past. Taking its cues less from the heatedly frenetic Scorsese gangster films and more from the slow-build meticulous Jean Pierre Melville movies, the shows future has never been more open to change.
"New York Sour" starts and ends with the heart of the show, as Richard Harrow goes on a kill-spree. The opening scene is impeccably shot by HBO alum Tim Van Patten as Harrow takes down two unknown men. The show is great at using sound to create tension as we see later in a very "Miller's Crossing" like scene where the clock keeps ticking as a man pleads for his life. We end the episode with Harrow telling his sister Emma that he's come home. It's a beautiful ending to easily the most engaging storyline of the episode. As for the rest of the Atlantic City gang, Chalky has begun to take on more of a major role as he now owns and runs a club that was formerly Babette's. Remembering the cringe inducing audition Eddie Cantor was put through last year by Chalky, I wonder how much he'll enjoy his new job of having to find talent. His storyline took an interesting turn when he negotiated with the seemingly normal talent manager Dickie, who Dunn would later find out has a little fetish for watching his wife "perform" with black men. It was a very tense scene and completely unexpected. It doesn't top the crazy Gillian scenes of last year, but hey what can.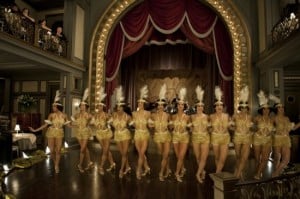 Speaking of Gillian, her life only seems to get worse and worse as she's begun to sell her……Artemis Club for money. The storyline gets interesting when Roy (Ron Livingston) comes along and claims to be a Piggly Wiggly executive needing a companion. I'm guessing he'll become a major player later on, so we'll have to wait see where this goes. Over in Cicero, Al Capone or should I say Al Caponey was annoyed that a factotum got his name wrong in the paper. The Capone storyline was entertaining, but seemed a little unnecessary and felt like an obvious way to show the schism between the old gangster ideals and the new. Stephen Graham always kills it as Capone and these scenes were no exceptions. The out of nowhere storyline of the premiere involved Agent Knox, a treasury officer who acts like the peachiest keen person in the world, but who actually hides a devious power play. His ability to lie so naturally will be interesting to follow as he moves up the ladder.
Last but not least, we have the string puller himself, Nucky Thompson. "New York Sour" didn't even seem to center around Nucky which would be interesting move if the show followed suit from now on. I don't think it will, especially considering next episode will introduce Jeffrey Wright's character as a major player and probable antagonist for the season. But for this episode, Nucky settled some disputes with the big dealers and then mostly stayed in the shadows. I'm intrigued to see how the show handles Nucky going further, do the writers try and make him more sympathetic or do they let him follow the path of destruction he's been on. Either way, I'll be watching.
"New York Sour" = B