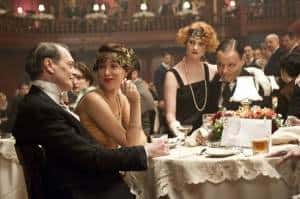 Anastasia is titled after the story of Anna Anderson, who was pulled out of a canal in Berlin after she attempted suicide. She later claimed to be the only survivor of the Russian Royal family, the Grand Duchess of Russia, whose family was murdered by the Bolsheviks.
Whether you take the story as an analogy for the fairy tale nature of Maggie's (Kelly Macdonald) desires to rise to the role of Princess in King Nucky's (Steve Buscemi) court, or a more complex statement on the conflict of the working class with America's self-made aristocracy, it framed an episode in which there were so many brilliant technical and visual achievements that it's become easy to understand why Boardwalk Empire is one of the greatest artistic endeavors on television.
Take Chalky's (Michael K. Williams) interrogation speech for example. It's the kind of moment that defines a series. The moment when the viewer realizes what a great ride they're on and that it's really just beginning. But Chalky's story about his father wasn't just about race. His father was hung because he stepped on the wrong shoes. He breached the class divide. Race was just the excuse. It hammered home the class conflicts that are the undercurrent that runs through Boardwalk like an electric shock.
Nucky's attraction to Maggie suggests a longing for a completely different set of values. There's a part of Nucky that realizes how empty and shallow his wealth is, a moment perfectly defined by the juxtaposition of Lucy's (Paz de la Huerta) emergence from the birthday cake with the vision of Maggie standing on the balcony. Boardwalk shines in the hidden looks and stolen glances. Maggie watching Nucky stroll arm in arm with Lucy through that store window. Nucky listening to Maggie whip the Senator with her defense of women's rights. But just as Nucky longs for something real, Maggie longs for the fairy tale illusion of something easy. That's the American dream. She steals the dress not only to remember the moment of her dance with Nucky, but to remember what living on the other side feels like. Like Nucky says, why can't we have it all?
For one reason, there's always someone waiting to take what we have away from us. Or when we've had it taken away, like Mickey (Paul Sparks), finding a way to get it back. Capone's (Stephen Graham) opening shot at Jimmy (Michael Pitt) served as our wake up call. When Jimmy's woman was cut up like the prostitute in Unforgiven, it served as another reminder that it's always the oppressed that end up paying one way or another.
Perhaps the only misstep in 1.04 was the developing relationship between Gillian (Gretchen Mol) and Luciano (Vincent Piazza). It was hard to figure out what was in it for her. We already know that Luciano needs Cialis. And now he's pursuing a particularly strong woman. It may be another way to examine the gender issues being raised.
We also got another shot of the Sinclair Lewis novel, Free Air. The novel's story focuses on a woman traveling to Seattle in an effort to avoid marrying a man named Geoffrey, a "sophisticated" beau back in New York who is distinctly older than her and part of "higher society." One look around the dinner table at Nucky's birthday party seems to make the parallels quite clear. Like the Russian Princess, the frauds are being revealed.
Grade: A-