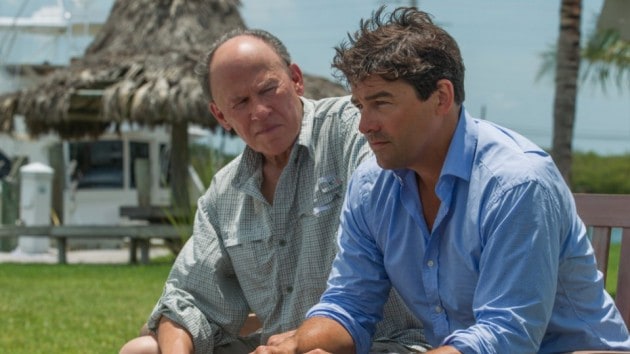 After being told by his father to put a price on his departure, Bloodline's fifth episode opens with Danny not being able to sleep as the death of Sarah haunts him. Defeated, he gets out of bed and starts packing his belongings, getting ready for his exodus; however, that action is interrupted, when he hears something is going on at the beach. He goes outside and finds his mother Sally sitting on the sand, with Robert lying lifeless on her lap. The look Mama Ray gives her son conveys genuine loss and heartbreak; the heavy weight of the finality of a life ending can be read in her eyes.
As painful as losing his father might be for Danny, Robert's passing also means that there is potential for him to stay, which prompts the Rayburn black sheep to cancel his upcoming flight to Miami. Meanwhile, the rest of the clan gather at the inn. Immediately, John questions Danny about his meeting with their father at the restaurant, and without blinking, Danny lies through his teeth by saying that Robert wished for him to become more involved in the family business. None of his siblings buy it and a cloud of distrust settles in with terminal velocity.
Meg brings up that arrangements for Robert's service have to be discussed, and her mother says that Papa Ray didn't want a big event before agreeing to do something small when John makes a point that people are, naturally, going to be inclined to pay their respects to the patriarch and his family. With a decision reached, Sally asks that they don't give big speeches and asks John to speak on behalf of everyone.
Later on, Meg and Sally go through through old photos of the deceased Rayburn and try to fish for images to showcase at the service. The task is bittersweet in its entirety, but it takes an uncomfortable turn for Meg when her mother expresses that a picture of the late Sarah should make the cut. She doesn't seem to realize how much it hurts Meg to be reminded of her sister; above it all, the matriarch seems obvious to the fact that her daughter can hardly stomach to be remembered of the special bond Sarah and Robert shared.
Danny's behavior is different from everyone else's. While that's typically the case, Danny's reaction after having just lost his father is particularly different for someone who is a grieving son. He meets Chelsea for a bite, as if nothing had occurred. In fact, it is her who brings up Robert's death and inquires what that means in terms of Danny's future. The conversation, however, gets interrupted when the eldest Rayburn spots Lenny Potts, an old friend of his father, and decides to leave the diner they are at. Once home, Danny finds John working on what to say at the memorial service, and tells him two things: first, not to write a book and to wing the speech, and second, that he also wishes to speak at the service. John doesn't agree with any of that, although he cannot tell his own brother that he doesn't have the right to voice his feelings.
Worried and still with an unfinished draft, John talks to Sally. He lets him know of Danny's wish, and she is against it. Then the sheriff asks about more background on his father, and Sally does a good job reminding him that there are reasons why people hide certain facts about their lives, especially about their families. Ultimately, she tells her son a gripping story about Robert's upbringing. As it turns out, the Robert's father used to beat his stepmother, and one time, he acted in her defense, which caused a violent altercation that almost ended up with him killing his dad. The title Bloodline has never had a clearer meaning.
Drama does not take vacations when it comes to the Rayburns, and Belle attends the service in spite of Kevin's wishes, which of course causes him to have a meltdown. While fighting in the kitchen, the members of the broken marriage both throw darts at one another but the tipping point of the argument comes when Belle accuses Kev of being like his father, which prompts Kevin to kick her out. While that couple hits the rocks even harder, Meg tells Alec to stay away from her, as she realizes that Marco is too close to her family. Playing the part of the perfect daughter, Meg cannot stomach disappointing anyone, and she seems to be ready to settle with the man who everyone likes.
The moment for to John speak finally arrives, and the speech is heartfelt; however, he breaks and decides to put aside what he wrote and follow his older brother's advice. He speaks from the heart and utters that Robert could be strict at times, but that he expected the best of his children because he wanted the best for them. While he is bringing his point home, flashbacks from the day Sarah had her accident and when Papa Ray beat Danny fill John's thoughts and make him quickly decide to end his spiel. When he is ready to let Danny say something, the oldest of the bunch has changed his mind. For an instant, it looks like the bothers are sharing the same line of thought.
Later on, the mysterious Lenny, who, as it's revealed, was a detective, gives his condolences to John and his wife. Diana, for some reason, mentions John's case to Lenny saying how her husband is working hard but only met dead ends. Therefore, Lenny offers to discuss the Juanita Doe crime later. Afterwards, the retired police force member talks to Danny, to whom he gives his condolences. There is palpable animosity from Danny towards Lenny. The pain from the past still lingers.
After the memorial, Lenny joins John, and as they had planned, they discuss the case. Since there are some similarities to a death that occurred while Lenny was still working, he tells John to look into the archives. However, the most vital part of the two men interacting is the fact that the former detective comes clean to the current sheriff about him having an altercation with Robert Rayburn, which took place when Danny was injured.
Meanwhile, Meg, Marco and Kevin are hanging out at the local bar, and Kevin finally speaks up about his break-up with his wife. He claims to be happy and free, then proceeds to get very intoxicated. Ultimately, he drives to Belle's house and attempts to apologize to her, yet words are not needed. His wife consoles him with a hug.
The next morning, Lenny pays a visit to Danny and tells him that he knows that his father hurt him after Sarah died. The old man apologizes for not doing anything about the matter and then gives the broken Rayburn a recording. Danny decides to play the tape and, as a result, listens to a young John being interviewed by none other than Lenny himself. In parallel, John is at the archives, hitting another wall in the Juanita Doe case. However, he zeroes in on a box that reads "Rayburn accident." He naturally opens it and finds pictures of Danny while injured. He also sees the transcript of the same interview that his brother is playing. John looks for the recording and, when he doesn't find it, checks into the log list. He discovers that Lenny had signed the sheet.
In his statement, John had said that Danny had been hit by a car. He also alibied Robert by claiming the man was with Sarah at the hospital. Not even when Lenny pushes for him to tell the truth does John amends his statement; instead, he covers for his father, while neglecting his older brother.
"Part 5" was another successful chapter that added some new depth and information to Bloodline's story. While show's plot revolving around the Juanita Doe is still the weakest of the Bloodline's weakest component, the story appears to be gaining some traction.

Highlights:
– Kevin's reaction to his wife crashing the service was perfect and much anticipated. Those who are familiar with Norbert Leo Butz's body of work are undoubtedly expecting the actor to be employed to the full extent of his range, which is ridiculously wide. This also applies to Katie Finneran, who completes this fictional marriage made in Broadway Heaven and brought to us by Bloodline creators Glenn Kessler, Todd A. Kessler, and Daniel Zelman.
– Sissy Spacek's performance in this episode could bring the Hulk to tears.
– Chelsea and Eric, looking like crooks, at the memorial was an interesting sight, to say the least. That said, Chelsea trying to be politically correct with both Danny and with Sally was very well constructed.
[Photo via Netflix]
Tell us what's wrong with this post? How could we improve it? :)
Let us improve this post!