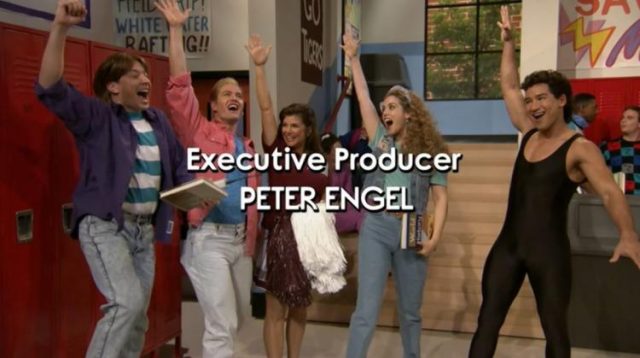 Peter Engel, one of the most prolific producers in television with more than 1,000 episodes produced under his banner, single handedly created the teen sitcom with Saved By The Bell, which he executive produced through all of its many incarnations, and which led to his many other teen series, including California Dreams, Hang Time, City Guys, and USA High. As if defining and conquering the teen arena wasn't enough, Engel produced the iconic Last Comic Standing, enabling the discovery of an entirely new, fresh generation of comedians.
All of this would be more of a career than any producer could ever dream of having, and with more than 50 years in the television industry, Engel has forgotten more than most will ever know. Engel's life and work touched and inspired an entire "Bell" generation, whose values and views of a diverse world were shaped by the stories and plain old fun of Peter's shows.
Peter was nice enough to answer some of our questions recently and you'll be delighted at the answers:
1. Congratulations on the book. We're very excited to read it. Obviously you can't tell us everything that's in it but our readers would certainly like to know some details about your life and how you achieved all the success you have. You mention that you were a "small boy with a big dream." – Can you tell us about your life growing up?
Answer: Life growing up was a challenge as I was a very shy boy with big dreams of making hit televisions shows. I was afraid, at first, to share that dream because I felt no one I knew and nobody in my family would understand. However, growing up in New York City was an adventure since I got to see a lot of Broadway musicals, which encouraged my dreams. We also had three baseball teams: The Dodgers (my team), the Yankees and the hated Giants.
2. Tell us about the progression of how you got into television to then becoming the Executive Producer on Saved by the Bell
Answer: I went to NYU film school and worked at 30 Rock as a NBC page at night during my junior and senior years of college. I started in local sports and then came to California to pursue my dreams. There were many ups and downs and many shows that shoulda, coulda, woulda that didn't make it and, after I was under contract at NBC, my dream would come about in the most unexpected way with Saved By The Bell.
3. OK we have to ask – who in the world came up with the infamous Jesse Spano "I'm so excited, I'm so excited! I'm so…scared!" line, episode idea. Basically just tell us anything we don't know about what is considered the singular most popular moment of the show's historic run.
Answer: That was the name of The Pointer Sisters hit song, which our three girls, The Hot Sundaes, were doing a music video of when Jessie got stressed and overwhelmed. Tom Tenowich and I wrote that episode and we took that line from the song when she got scared.
4. You obviously have an incredible knack for Saturday morning TV. What do you think the biggest difference between the audiences of the 90s days of Saturday morning TV and today's TV audience?
Answer: It was a gentler and kinder time. We were a bit naive at times but our target audience of teens and tweens connected so well with our cast and storytelling.
5. You mention that Saved by the Bell stars came to be your other family. Can you explain that in further detail?
Answer: Yes. Since they were only 14 and 15 when we began – except for Screech who was 11 – we had to be a family or we wouldn't have made it. I wasn't just the Executive Producer but the Papa.
6. What do you consider to be your biggest personal and professional achievements?
Answer: Of course, my three heroes, my children, who I dedicated the book to and Saved By The Bell, which impacted an entire worldwide generation.
7. What do you think has challenged you most in life? What have you learned from that challenge?
Answer: Dream big dreams, live life with passion and never, ever, ever give up.
8. If you had to pick one person in your life that has inspired you the most, who would it be, why, and what did they teach you?
Answer: John F. Kennedy. He told me that I had to have faith when it didn't look like we had a chance of winning.
9. What do you think the most major tenets of success are and why?
Answer: It's the journey that gives life lessons and to love the people you make the journey with. I have been totally blessed to have loved and been loved by so many people. It's not how many times you get knocked down but how you come back.
10. What advice would you give to an aspiring entrepreneur?
Answer: Find your dream and talent and pursue it with everything you have.
11. It's said you've had some memorable encounters with many famous and important personalities. Can you share a couple of these encounters for us?
Answer: I worked on JFK's Presidential campaign and was close by his side every time he was in NYC. I had breakfast, lunch and dinner with Orson Welles all in one day.
12. You've produced over 1,000 episodes of television, are there any particular episodes of shows you've produced that you are particularly fond of? And why?
Answer: I loved the auditions and competition in the vote episodes of Last Comic Standing and the Hawaii and Las Vegas movies of the week for Saved By The Bell. I also love the Risky Business episode of Bell. I was also very moved by the final episode of California Dreams.