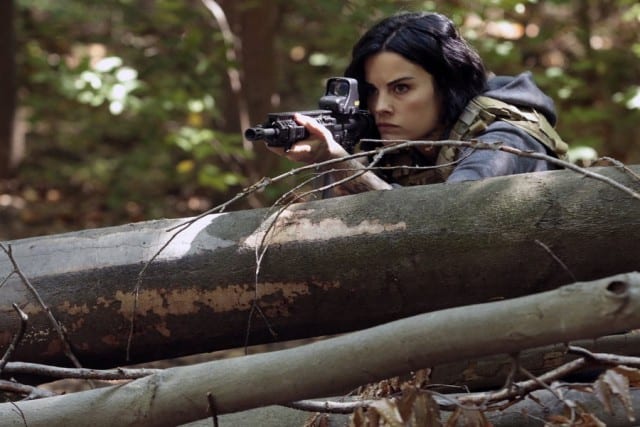 The past couple of episodes of Blindspot have shown us that not all is what it seems with the histories of our characters. Let's take a look at what happened in this week's episode, "Sent on Tour."
The episode opens with a flashback as the man with the tree tattoo on his arm buries something mysterious. Back in the present day, Patterson's boyfriend David lets her know (as he studies photos of Jane's tattoos) that he wants a key to her apartment. She brushes this conversation off, but it's a great character moment for Patterson (and David, even though he's just recurring) that I'm really glad was included. Ashley Johnson has been doing a phenomenal job on this series since the beginning, and she's been a great source of both humor and heart as we've gotten closer to everyone on the show. There's also a great subplot involving these two characters in "Sent on Tour," and I'm very hopeful that we get much more of this kind of story as we move forward in the series.
We get more information on the file that Mayfair has been trying to ignore, despite the connection found on Jane's body, in "Sent on Tour," and that file ties in well (albeit extremely coincidentally) with a tattoo of a location in Michigan that is discovered after the analysis of Jane's body last week. Lou Diamond Phillips guest stars as a man on the FBI's most-wanted list, and he absolutely eats up his screentime in the way that only he can. Phillips is a great character actor, and this role suits him very well. A lot of Jane's tattoos come into play in this episode, in fact, and it's starting to become much clearer that everything on her body really is connected. This is something that we've been aware of since the first episode; however, riddles and clues have started to play off of each other in a big way, and I expect that the series map will become even clearer moving forward.
The action scenes in "Sent on Tour" were just as great as we've come to expect on Blindspot. In particular, the gunfight occurring at the ranger station was expertly crafted and very entertaining to watch. The directing on the show continues to be solid, and the stunt coordination seems to aid the series in ways that the average viewer won't think about enough to appreciate. The writing seems to be improving each week, and I'm very excited to see the quality of this series six months from now.
"Sent in Tour" was an extremely enjoyable episode of Blindspot that managed to change up the formula a bit through the extensive use of Patterson in a major B-story. As fun as it's been getting to know Jane and Kurt's respective histories and past lives, this episode proved to me that it's going to be equally as important to learn all about the other characters in our main cast. The producers also promised that they wouldn't hold back with reveals and story points, and the main story in this episode goes a long way in showing that there really is a plan in place; we're not going to have to sit around and simply wait for the story to slowly unfold. The pacing is great, the characters are fun, and the story that we're watching play out becomes more and more interesting every week.
What did you think about "Sent on Tour"? Let us know your thoughts on the episode and Blindspot as a whole in the comments down below!
[Photo credit: Giovanni Rufino/NBC]