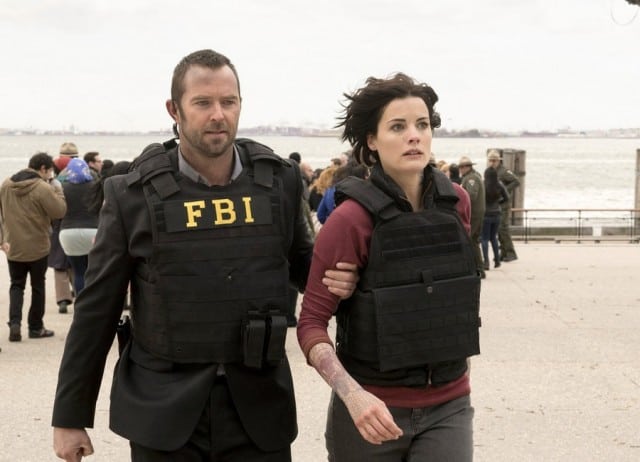 God bless America. After months of screenings, thinkpieces, way-too-early award speculation, and plenty of misguided preconceptions about what the next few weeks will bring in terms of ratings and quality, the fall 2015 television season is finally here. A whole lot is going to be happening in the next few weeks as the networks decide on what they think is working, what isn't, what needs more time, and what has already taken too much time on the schedule, but, for right now, at least, we get to sit and enjoy some highly anticipated premieres, including NBC's Blindspot, which I'll be covering throughout its first season.
Blindspot may be NBC's most anticipated new show of the fall. The network describes the show as follows:
A beautiful woman, with no memories of her past, is found naked in Times Square with her body fully covered in intricate tattoos. Her discovery sets off a vast and complex mystery that immediately ignites the attention of the FBI, which begins to follow the road map on her body into a larger conspiracy of crime, while bringing her closer to discovering the truth about her identity.
Blindspot stars Thor's Jaimie Alexander, Sullivan Stapleton (Strike Back), Marianne Jean-Baptiste (Broadchurch), Rob Brown (Treme), and Ashley Johnson (Much Ado About Nothing), among others, and is a series that I've been following very closely in the off-season. Expectations are high for this latest series from Greg Berlanti, so let's check out the debut episode of Blindspot, appropriately titled "Pilot."
The episode begins with the scene that we've all probably seen by now from all of the show's trailers and promos: an unidentified bag with a tag reading "CALL THE FBI" is found in Times Square, leading to an evacuation and investigation by the bomb squad. Upon manual inspection, the bag unzips from the inside and reveals a naked and heavily tattooed woman who seems to have no idea what's happening. The cinematography in this first scene is simple yet effective, and the team does an admirable job of showing the woman's tattoos and body while still obscuring her…tidbits.
After the woman is taken into custody, Blindspot jumps locations to show us an FBI mission led by Stapleton's Agent Weller in Kentucky. The mission is a success, but Weller is immediately called back in to deal with the tattooed Jane Doe, revealed to have a previously unseen form of amnesia, after his name is discovered prominently tattooed on her body.
The team figures out that all of the tattoos were put onto Jane in a very short amount of time, and Weller understands that it must be some form of map or blueprint. Jane's fingerprints and facial recognition don't show up anywhere in the FBI's databases, and she has no memory whatsoever of who she was.
The FBI puts Jane up in a safehouse, since she has nowhere else to go, and the director of the episode does a really incredible job of managing to show the emotional and mental turmoil that Jane is having to go through in her current state. Speaking of the directing, Mark Pellington, the director of "Pilot," really does do a good job with this episode. It's really nothing special, but it's extremely solid and does what it needs to do for a pilot. Shows that eventually become great can have very weak directing in the first episode (and, of course, vice versa), but Blindspot's team made a great choice with this one.
Later, Jane and the FBI discover that she speaks Chinese as one of her tattoos is of an address and date, which just so happens to be that very day. They go to the location that's listed on Jane's body and discover explosives being made in an apartment. As a Navy SEALs tattoo is found on her images back at headquarters, Jane demonstrates some pretty impressive combat skills when she comes across an altercation between a man and his wife. Fight choreography is already starting in a really good place on Blindspot, and that can prove to be a major asset that the show can have moving forward.
A video is discovered with the explosives that indicates when they will be used, and the team heads out to stop anything from happening. They find the man responsible for the explosives, but someone manages to warn him before he can be caught. Weller ends up stopping the bomb from causing the intended harm, but the man gets away. Jane, however, reads through his emails and realizes that the real target for the explosives will be at the Statue of Liberty. They manage to stop tragedy once again, and Jane has some memories flood back to her after firing a gun. The episode's final scene reveals that there's even more to this mystery than we thought.
I really liked the first episode of Blindspot, and I think that it did everything that was needed of it. It established a very interesting premise, introduced our main characters in a strong way, and started building one of the more fascinating mystery arcs that I can recall seeing in a procedural in recent history. In the first episode, the show felt like a blend between The Da Vinci Code and, of course, The Blacklist (with maybe some Alias thrown in there for fun), and that seems like a combination that can work really well. Jaimie Alexander gives a really good performance as our Jane Doe, and the rest of the cast (especially Stapleton) utilizes the material as well as you would hope.
Blindspot isn't perfect by any means, but few pilots ever are. The writing will need a little improvement, and it will be very interesting to see how the core mystery of the series will play out and if it will ever start to wear thin. However, I really do think that this was a strong pilot that will intrigue audiences enough to stick around. I know that I keep comparing it to The Blacklist, but that's a very appropriate comparison, in my opinion. Both pilots were somewhat cliched, and neither had the strongest writing in the world, but a solid premise and great acting has led to the former earning time to improve over its first two seasons. I really do think the same can happen with Blindspot, and I look forward to keeping track of this show's progress. Definitely check this one out, friends.
Fall television is here, and I can't wait to see what happens. As Claudius Templesmith might say, "Ladies and gentlemen, let the Hunger Games begin–and may the odds be ever in your favor."
What did you think of the first episode of Blindspot? Do you think it can be NBC's latest hit in the vein of The Blacklist? What were your favorite parts of the episode, and what are you looking forward to seeing from the show? Let us know in the comments down below, tweet me your thoughts at @JasefWisener on Twitter, and stay tuned each week for my continuing reviews of Blindspot!
[Photo credit: Virginia Sherwood/NBC]