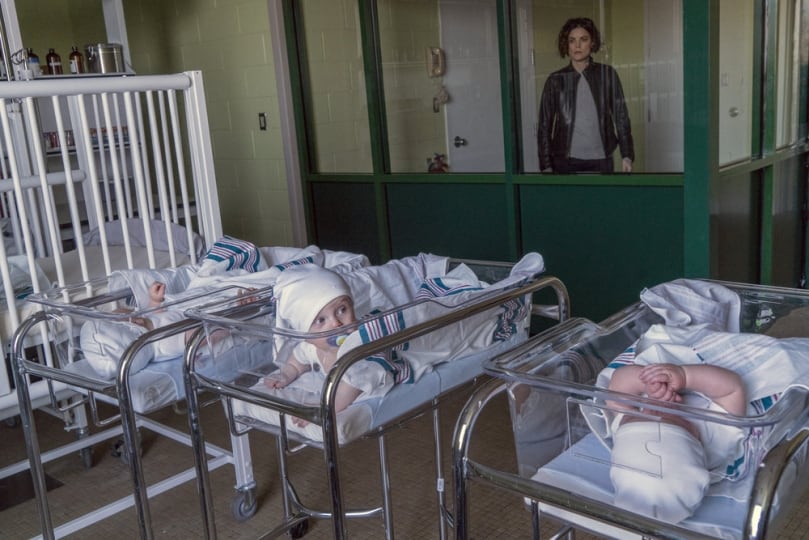 Last week's episode of Blindspot ended in a big way with the revelation of the true purpose of Jane's side missions, so the follow-up episode had the Herculean task of both continuing that storyline and setting up next week's season finale. What was the result? Let's take a look at tonight's new episode, "If Love a Rebel, Death Will Render."
The episode opens with Jane confronting Oscar about everything that she just saw play out with Mayfair (at the end of last week's episode). It appears as if she's going to be completely done with everything until a new figure emerges that helps explain why these things have had to happen. She is encouraged by Oscar to trust herself instead of them, and it seems like things level out in her mind.
Two weeks later, everyone on the team is in an interesting position. Kurt is filling in for Mayfair (recently released but now under house arrest), Jane is working to help things easier with Weller's father, and Zapata is finally ready to come clean about her involvement in the investigation. To throw another wrench into things, the Jane Doe investigation is being suspended pending further review. After a baby is discovered with a tattoo matching one of Jane's, Weller (as interim assistant director) orders the team to keep it under wraps so that the higher-ups don't find out that she's still being included in anything. This decision ends up blowing up in his face after it's discovered anyway, and the investigation is forced to continue without Jane present. She doesn't agree with that, of course, so she begins investigating on her own (in a slightly more unsavory way). The team is finally able to solve the case, and it ends with a promotion for a very reluctant Weller. Jane is still no longer allowed to be on the team, though, so things definitely don't end on a happy note. A last minute shared moment between the two helps ease tensions a bit, though, putting the two on a better footing than before.
While all of this is going on, Mayfair is conducting her own investigation into what's happened to her. She may be under some restraints, but her background gives her plenty of ways to get around most obstacles. Reade and Zapata are both brought into her circle, and it's an interesting progression as they try to help their friend and boss even when worrying that Mayfair may be digging herself into an even bigger hole. In the end, she's able to solve the mystery of who set her up, but not before a confrontation with the woman that unknowingly caused all of her pain.
"If Love a Rebel, Death Will Render" was a pretty strong episode of Blindspot that set up next week's finale in a very strong way. So many storylines reached breaking points in the final few minutes of the episode that I'm left on the edge of my seat in anticipation for the final episode, and I can't wait to see those events finally play out.
What did you think of this week's new episode of Blindspot? What do you think will happen in next week's finale? Let us know your thoughts in the comments down below!
[Photo Credit: NBC]
Blindspot Season 1 Episode 22 Review: "If Love a Rebel, Death Will Render"
Summary
"If Love a Rebel, Death Will Render" was a strong episode of Blindspot that perfectly set up next week's season finale.