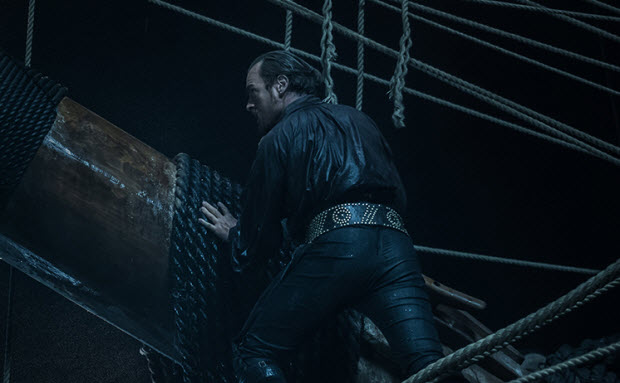 It took five episodes, but things finally got pirate-like on Starz' new swashbuckling drama Black Sails. It was another solid episode from the series, which leads fans to believe that the final half of the season could be very interesting.
The best part of episode V was Flint's assault on Captain Bryson's boat. With the Walrus on the open sea, the series really started to feel like a pirate drama. They did something interesting this episode and used a character, Dufresne, who has a limited role in the series as our eyes for the siege. I actually enjoyed this perspective and it made me think that this character could be used a little more.
One of the things they do in Black Sails that was especially present in episode V was the technical aspect of sailing a ship. They often discuss gaining and extra knot or two in speed, but it was really at play in this episode as the chase and maneuvering was a key theme. After an eventful siege, Flint realizes he's been caught in a trap. Bryson has locked himself in a reinforced hull on the ship while another ship from the Royal Navy approached the crew. Now Flint is in the middle of the ocean with an interesting predicament on his hands.
The show was mainly about the preparations, actual siege, and revelation of the trap, but they did take time during the episode to offer us some more insight on Eleanor's business problems. I think Hannah New is a cute chick, but her role stinks and she doesn't do it that well. This is one part of the show I'm pretty disappointed in. Then again, maybe we're meant to be annoyed with Eleanor and her happenings.
Perhaps the most intriguing 'land' portion of the show was Rackham taking over a brothel and the build-up for Vane. Vane is one of the most interesting characters on the show (when you can understand him) and you know he's going to have a big role to play down the stretch. Right now he's kind of just buying his time waiting to make a move. Once Eleanor lifts the ban on Vane and he gets his disgruntled crew together is when the show will climax.
Ultimately, Black Sails is treading water. It'll never be a Game of Thrones or other popular premium channel series, but for now, while we wait for Game, it's doing just fine.
[Photo via Starz]