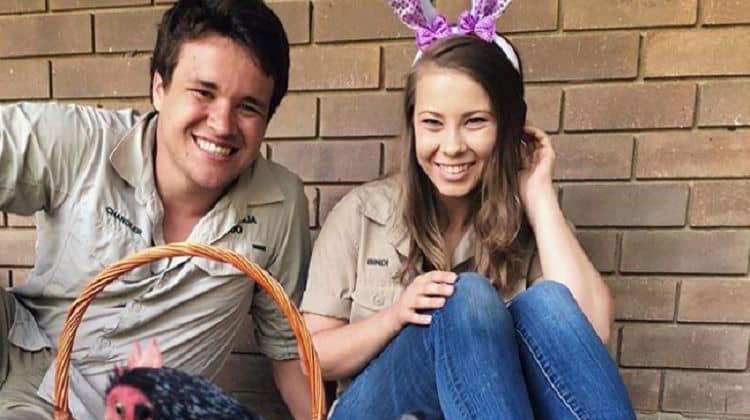 Bindi Irwin was born, Bindi Sue Irwin in Buderim, Queensland Australia on July 24, 1998. Her parents are Terri Irwin, and the late, Steve Irwin. They both worked as TV personalities and conservationists, and Terri is also an author. Bindi's late father, Steve, was well-known for his ability to work with crocodiles and other wild animals, a passion he got from his own father, naturalist and herpetologist, Bob Irwin. Bindi has been a recognizable name since she was young, often appearing on her father's show, the Crocodile Hunter, starting at the young age of two. She herself has grown to love animals and nature as much as her father and grandfather, and has taken an active role in conservationist work herself. She leads an interesting life in Australia, with her mother and younger brother, Bob. You are probably familiar with this amazing young lady, but here are ten things you didn't know about Bindi Irwin.
1. Her father was killed by a stingray
Steve Irwin was known for the big risks he'd take with wild animals of all kinds. He definitely had a way with them, and almost appeared to be invincible to some of the dangers they could bring. If anything, more people would have imagined if one type of animal might get to Steve Irwin and cause the most harm or even death, they might have guessed it would have been with one of the many crocodiles he would handle. But that wasn't the case in the end. While filming a segment for an upcoming show off Australia's Great Barrier Reef in 2006, a stingray plunged his barbed tail into Steve's chest. Steve died a short time later on the boat, surrounded by her crew members and friends.
2. She's got acting talent
Irwin has appeared on a number of television shows and even had her own television series for children, Bindi: The Jungle Girl. She played the star role, Nim, in the sequel to Nim's Island, which originally starred Abigail Breslin. She also had the lead role in the movie, Free Willy: Escape from Pirate's Cove, which released on March 23, 2010. She has won many different awards for her acting parts, including a Daytime Emmy Award, and the Young Conservationist of the Year award in 2014.
3. She sings too
Irwin has released a couple of albums of her own, starting with her debut album released on November 27, 2006, The Crocmen. A year later, her second album, Trouble In The Jungle came out. This particular album features Bindi rapping, and is the only one of her albums that does. It also includes a tribute song to her late father, titled, My Daddy The Crocodile Hunter. Originally, Irwin had her own band, called Bindi and The Crocmen, but as of 2009, the name has been changed to Bindi and The Jungle Girls. Irwin's fourth album re leased in 2013, Bindi and The Jungle Girls African Dance Party, and her fifth album, Bindi and The Jungle Girls Island Dance Party, hit the stands in 2016.
4. She got her name from a reptile
Steve Irwin had a real love for one particular crocodile at the Australian Zoo, so when his daughter was born, what better way to pay tribute to his favorite reptile then to name his daughter after her? Name his daughter after her, which is Bindi. Bindi's middle name, Sue is also from another creature, a dog. Sui was the family's dog and she passed away in her sleep from cancer, and his love for the dog inspired him to use the name Sue for his daughter. According to Steve Irwin, the name Bindi is actually an Australian Aboriginal word, meaning, "young girl."
5. Was a contestant on the Australian version of Big Brother
Irwin was one of the house guests on the Australian Big Brother, which aired in 2013, and became close to one of her housemates, Tim. Once Irwin was eliminated from the show, Tim made references of missing her and what a great and was quoted as saying, "I want to thank you for being an incredible Wildlife Warrior. I hope when you're out of the house you can come visit me". On a surprise visit, Irwin did reappear on the show to surprise her ex-housemate.
https://www.instagram.com/p/BlXxt88BhTd/?hl=en&taken-by=bindisueirwin
6. She and her family were criticized for their partnership with a theme park
SeaWorld has been in the news many times over the years, criticized for how they treat animals. Accusations of animal abuse have always surrounded the park and when Irwin and her family appeared on the Good Morning America show, announcing they were partnering with the theme park, the animal rights group, People for the Ethical Treatment of Animals began criticizing her and her family for supporting the park after all the accusations of animal abuse it had sustained.
7. Winner of Dancing with the Stars
That's right, along with her abilities to handle and communicate with animals, Irwin is also talented in other areas, one of them happens to be dancing. Many stars have appeared on the highly rated reality TV show, Dancing with the Stars over the years, including stars who swore they knew nothing about dancing, but once they agreed to take the challenge, they realize they have more dance moves in the them than they thought. Irwin was one of the star challengers on the 21st season of the show, and actually took home the trophy. Her and her partner won first place and she was one of the most popular stars to be watched and followed throughout the season. Irwin was a minor when she appeared on the show, so had to be granted permission by the courts to participate, which she was granted by the state court of California.
8. She's into fitness and made videos
Irwin has to keep fit in order to keep up with all the work she does in the outdoors working with animals, among her many other passions. She has made two, and both geared to get kids moving and enjoying exercise. The first fitness DVD was released in 2006, and is titled, Bindi Kid Fitness with Steve Irwin and The Crocmen (2006), and her second hit the shelves in 2008 and is titled, Bindi Kid Fitness Volume 2 Jungle Dance Party.
9. Moving in with her long-term boyfriend
US wakeboarder, Chandler Powell, is stoked with his life right now. He's 20 years old, two years older than Irwin, and has been dating the infamous crocodile hunter's daughter for two years. He is so smitten with the young conservationist, that he has said he often wishes he could pause moments in his life and just savor them a little longer. The two have been talking about babies and wanting to be young parents, although there is no word of them getting married yet. Despite no signs of wedding bells, there is word that the two have moved in together, something Irwin's mother didn't agree with totally at first, but now she is supportive of her daughter's decision, and says her father would be too.
10. Has a younger brother
Irwin's little fourteen year old brother, Bob, was just a toddler when his dad died. He has also grown up to have a love for nature and is an active conservationist. He is also a nature photographer, and although he loves what his father did, he has said that he does not want to be just like his father, but he definitely does want to continue his legacy. At the beginning of the year, young Irwin underwent surgery to have his appendix removed but recovered well.