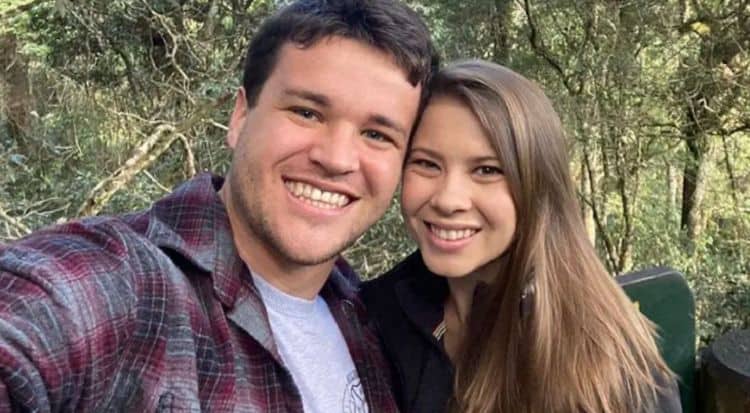 Maybe you don't recognize the name Chandler Powell of the top of your head, but we know you recognize his wife's name. Bindi Irwin recently married the young man, and they just announced that they are expecting their very first child. We all grew up watching Bindi and her father, the late Steve Irwin, on television. We felt as if we knew the young girl, our hearts broke with her when her father died, and we've followed her family ever since on their journey to continue his legacy. We are so excited for her and her new husband, and we thought we'd get to know him a bit more.
1. He's a Wakeboarder
We don't know a lot about him, but we know that he loves to wakeboard and that he's from America. Where? Florida. He's from Orlando, Florida, which is also home to Mickey Mouse, but he seems to have a love of all things nature like his new wife, and they are nothing short of completely adorable.
2. They Met in Australia
It was 2013 when they met. They were only teens at the time – young teens, at that – and they met in Australia at a zoo. It was the zoo sanctuary that Bindi's family owns, and she was the one who was handling all the tours that day. She remembered him being that he is a legendary wakeboarder, and he remembered her as being amazing.
3. They Kept in Touch
When the then 14 and 15-year-olds parted ways in 2013, they kept in touch. He went back to Florida with his family, she stayed in Australia with her mother and brother, and they kept in touch. They wrote letters, talked on the phone, and spent two years doing so.
4. They Announced Their Relationship
It was 2015 when they decided to tell the world that they were clearly in a relationship. They were 16 and 17 at the time, and they had been doing nothing but communicating virtually and by letter the entire time. They decided tha they would go public with things, and that's when she was able to spend months in LA competing on "Dancing with the Stars," where he showed up to show his support every single week. They spent the next few years going back and forth between their own countries and home to be together.
5. He Moved to Australia Two Years Ago
Five years after meeting and never losing touch, he moved to Australia to be with Bindi. He moved in with her family, he began working at their zoo, and he's never looking back. They've been together ever since, and he asked her to marry him on her 21st birthday on July 24, 2019. They got married on March 25, 2020.
6. The Highlight of His Life
He announced on his own Instagram page in August 2020 that he and his wife are expecting their first baby, and he says that this is the highlight of his life. Becoming a father is something so special and amazing to him, and he cannot wait to be one and share this journey with his wife.
7. He Went to UCF
It makes sense since he is an Orlando native. He went to the University of Central Florida for college. He majored in marketing. He's not using any of that right now as he is working and living with the Irwin family at their zoo in Australia, however.
8. He Loves Extreme Sports
The one-time wakeboarding pro no longer competes, but he's still into very extreme sports. He's a big fan of things like diving, surfing, and being in the water. He is so good at things like that, and his wife also likes to join him when he participates in his extreme sports and hobbies.
9. He's Well-Traveled
In case you were wondering what brought him to Australia in the first place, it was his pro wakeboarding career. He was there to compete, and that's when he happened to take a tour of the zoo. He's also been to a myriad of other locations around the world. He's been to the Philippines, China, Abu Dhabi, and even Thailand as well as all over the United States.
10. He Gets it From His Father
Chandler Powell is a lot like his wife in that he takes after his father like she takes after her own father. Bindi decided to follow her father's footsteps and go into the wildlife game, and her husband followed in his father's footsteps. His father was also a pro wakeboarder.
Tell us what's wrong with this post? How could we improve it? :)
Let us improve this post!