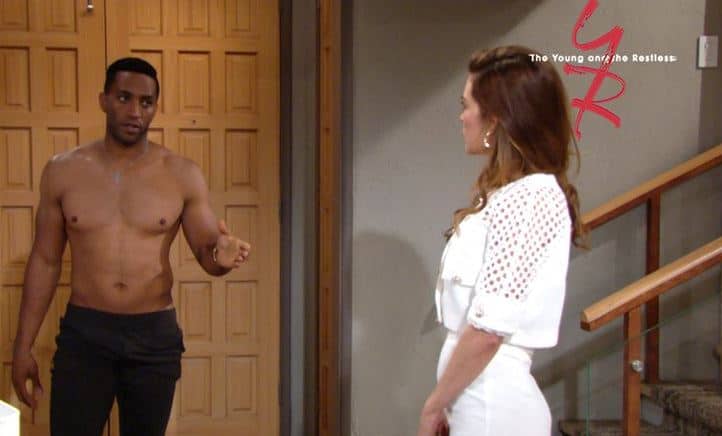 Young and the Restless fans aren't really sure about Kyle. While we all know what he wants in terms of business and stuff like that, we aren't really sure where he stands with Summer. We thought there might be a chance for them to get together and be a happy couple, but we aren't sure that's possible at the moment. He's taking a great deal of pleasure in making sure he can take her down by sharing her plans with her mother. Phyllis already caught her daughter basically topless and standing in front of Phyllis' own boyfriend, Billy. She was less than amused by that, but she was downright shocked to learn that her daughter plans to follow Billy on a business trip. She told her mother she was going to a yoga retreat that weekend, and Kyle had to share with her all the lies that came along with that statement.
Kyle seems to want to see her fail, and we think that this might be his way of getting her to have no choice but to turn to him. Is that true? Is he doing all this because he wants a chance with her and this is the only way to get that chance in his life? We don't know, but we do know that there is a good chance that they will end up hooking up before much longer even if Summer believes that there is something between her and Billy. Her intentions aren't even entirely clear to us, and we just want to sit back and continue to watch this train wreck unfold into whatever it happens to turn into. There's a lot that might happen, and we can't make it change.
What's Happening on the Young and the Restless
https://twitter.com/HunterHaleyKing/status/1031952708331167745?ref_src=twsrc%5Etfw
It turns out the lovely Hunter King is going to get married, and she could not be happier about it. She got engaged this week, and she's marrying a man she met at work. She's an actress, he's a crew member. Things just worked out for them, and she could not be happier that this job not only gave her a chance to become a star, but it also gave her a chance to meet the man of her dreams and become his future wife. Congratulations to the happy couple, and have the best time planning your wedding.
What's Next on the Young and the Restless
Big Secrets take Center Stage next week on #YR! @CBSDaytime pic.twitter.com/91kPd2WPOn

— Young & The Restless (@YRInsider) August 17, 2018
Things aren't looking good for Phyllis. She's learned her daughter is not someone she can trust, she even likes, or is a good person. She's got this amazing plan to go ahead and steal her mother's boyfriend by seducing him and starting an affair, which is not exactly something a normal girl does to her mother's love. Obviously, Summer is in a bad place. She's not happy, she's miserable, and she's living her life with a situation that she cannot control. She needs to get her own life together, but she's not really going to get a chance since she's got to deal with her mother. Phyllis is furious, and she's out for blood. She will not allow her daughter to get away from this, and that's that.
On the other hand, we hear that Billy is going to have issues with Nick. He will throw shade at him by telling him that he is just like his father, and that's not something that makes Nick happy. They have a lot of drama between them, and we can't help but wonder if there is anything that they can do to make this situation better. We doubt it, but there's always a chance. Except, no. When Nick finds out that Billy is attracted to Summer, he's going to lose his mind and have a fit about it. They live in a constant state of upset, and that's not about to change for any of them in the near future, very unfortunately.
Stay tuned for more Young and the Restless and be sure to check out TVOvermind daily for the latest Young and the Restless spoilers, news, and updates.