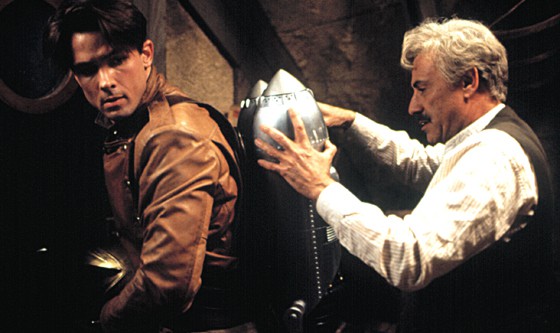 Billy Campbell has been lighting up screens for almost 40 years now. Known for his good looks and his acting skills, Billy has more than 70 on screen credits and the list just keeps growing. Although he has had some great film roles, his TV projects are what he has become most well-known for in recent years. He has played significant roles in shows like The 4400, The Killing, and most recently, Cardinal. Although Cardinal ended in 2020, fans can rest assured that they haven't seen the last of Billy. He has some projects in the works and will be back on your screens before you know it. Continue reading for 10 things you didn't know about Billy Campbell.
1. He Got Into Acting After Getting In Trouble At School
Billy's journey to acting is a lot different than many people's. He told C-Ville.com, "I was collared by my English teacher for cutting up in the hallway outside the room in which she was holding auditions for a play. This was Cathy Sublette at Western Albemarle High School and she let me choose between visiting the principal's office and auditioning for the play, bless her. I had a sudden and intense interest in acting from that moment, which hasn't gone away."
2. He Loves Rugby
Billy has always been the type of person who loves to stay active and one of his favorite ways to do that is by playing rugby. He was a competitive rugby player for many years and played with teams such as the Virginia Rugby Football Club and the Santa Monica Rugby Club.
3. He Took A Break From Acting To Sail Around The World
Billy has an adventurous side and he isn't afraid to show it. In 2005, he took a break from acting for a little over a year to sail around the world with the crew of The Picton Castle. At the time, he was working on The 4400 and his character was written out of the show by being assassinated.
4. He Has A Nerdy Side
Some people may look at Billy and assume that he's only into 'cool' things, but he has a self proclaimed nerdy side and he's proud of it. He once said, "I'm nerdy about science fiction and fantasy and graphic novels and reading, and I'm nerdy about board games. My favorite board game is a board game I'm working on right now. It's a game of Napoleonic era naval warfare, and it's going to be fun."
5. Location Is A Major Factor In The Roles He Takes
Actors have all sorts of reasons for why they decide to take roles. Some people love to play complex characters while others are drawn to scripts or the chance to work on certain types of projects. For Billy, however, the filming location is one of the biggest factors in whether or not he is interested in a role.
6. He's Not A Fan Of CGI
Technology has come a very long way over the last few decades and the entertainment industry has taken full advantage of it. CGI has become a popular way for film makers to add an extra touch to their movies, but Billy says that he isn't a fan. He said, "I'm not a big fan of CGI. I'm not a fan at all, unless they use it in a way that doesn't call attention to itself."
7. He Lives In Norway
Billy was born and raised in Virginia and he is very proud of his southern roots. These days, however, he lives in Europe. He told SBS, "I have a Norwegian wife and child and I live mainly between Copenhagen and her family's farm in the south of Norway." He also has an apartment in Vancouver.
8. He Considers Cardinal The Best Job Of His Career
Any professional actor will tell you that they're always thankful for the opportunity to work, but sometimes there are roles that resonate with them more than others. For Billy, that role has been John Cardinal. He considers the show the "best" job of his career and says that there's never been a role he was more well-suited to play.
9. He Still Gets Recognized From The Rocketeer
The 1991 film The Rocketeer was the first job that really put Billy on the map. Although it's been nearly 30 years since the film was released, there are still people who recognize Billy from the movie and approach him on the street. This just goes to show how much of a lasting impact movies can have.
10. He's Always Been Interested In The Civil War
As someone who was born and raised in the southern part of the United States, Billy grew up constantly learning about the Civil War. He eventually developed a fascination with it. At one point in time, he even joined a Civil War reenactment group called Albemarle Rifles.
Tell us what's wrong with this post? How could we improve it? :)
Let us improve this post!