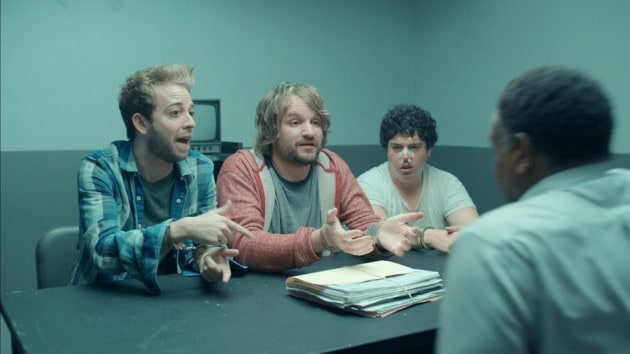 Full of absurd story twists and cinematic flourishes, perhaps Big Time in Hollywood, FL's best talent was its ability to descend into chaos at any moment; every episode seemed to try and top its predecessor with a relentless dedication to dramatic crescendo. Of course, it is always easier to build momentum than deliver a satisfying ending, something "Art Imitates Death" certainly struggles with. While it's definitely an episode full of rewarding little moments, the constant building of tension throughout the season leaves a huge impetus on the final action sequence to deliver.
Does that final sequence deliver? On an action level, the blocking of each group of characters is awkward, making it hard to determine where each group is actually located while the shootout is happening. This is a logistical thing, but it removes some of the actual tension from the moment: when we see characters pointing guns in a certain direction, the mind naturally tries to apply logic and determine who may be on the end of that bullet. The shooting gallery montage that Del continues to film through is really designed for comedic humor, capturing iconic action moments like the "one last bust" pre-climax phone calls – and then in said climax, a random explosion, a fake out death, and the self-sacrificial moment of the hero (and of course, "Welcome to Monkey Largo, motherf***ers!") – but it's a little awkwardly shot, and robs a bit of the cinematic tension the scene is designed to create.
However, how that scene brings the season together – making a neat parallel back to the pilot, when Diana's strong-headed intervention into her kids' lives ended up in a shootout – is so hilarious, it makes the insanity that follows worth every drop. Jack, determined to save his kids, puts on his "#1 Bald A**hole" shirt and leather jacket, and storms onto the "set," where the Dolfe brothers are carefully coordinating a drug deal and trying not get murdered, and kicks off a chain of events that leaves everyone on both sides of the law and movie production dead – including Holgado and Malloy, shot by Rico who somehow got his hand on a real gun, and apparently wanted to practice his motions in the scene. How that climatic moment comes to life is through Jack, and in the process, it gives the show's most consistently entertaining character (and its best performer, if we're all being honest) a wonderful showcase to finish the season (hopefully not the series, though with 0.2-0.4 ratings each week, it may be) on.
If anything, I wish the shootout had happened earlier in the episode; "Art" spends a lot of time coordinating pieces into place that it doesn't have much time to recover once the smoke settles. A completely handless Cuba drives away with a bunch of coke in his boat, Darla steals evidence to keep the boys safe, and in the final moments, Zdorkian breathes once again (this time, Del's relentless CPR does wonders). All of these moments are stepladders to a second season, which may never exist – so it's up to the 'big' character moments of "Art" to bring the series some closure – and if you consider the Dolfe brothers declaration that they wouldn't change a thing that's happened in pursuit of their dreams (in other words, allowing their delusion to continue), then Big Time in Hollywood, FL's ending will feel flat without tying up those loose ends. Big Time, for all its ironic idiocy and addiction to homage, was a series that explored male dynamics (particularly within a family) in an interesting way, playing with the idea of maturity across two generations of Dolfe males. Without a second season, the finale of Big Time doesn't give proper closure to that central story – and while it brings its external plot to a satisfying (if predictable) end, it still feels like "Art Imitates Death" could've done a little more to bring the relationships of its show to a satisfying close, or even an intriguing passe.
Ludicrous and indulgent to the very end, Big Time in Hollywood, FL is another in a growing line of wonderfully successful quirky comedies from Comedy Central; a show like this neither fits in the vein of a traditional network or cable show, and seeing Comedy Central throw a ten-episode order at such an unknown entity (even if it had Ben Stiller's production company behind it) is always an encouraging thing, especially when the final product feels uninfluenced by the network, a wholly creative vision unto itself, flaws and all. That alone will keep me suggesting Big Time in Hollywood, FL to friends into the future. Of all the new comedies I've watched already in 2015 (including a few debuting in the fall), Big Time in Hollywood, FL has easily been the most creative, a breath of fresh air amongst the stale network sitcoms and angsty single-camera pilots that feel like they've forgotten to have fun. And out of Big Time's many talents, its capacity for fun is arguably the most addictive of them all.
[Photo via Comedy Central]
Tell us what's wrong with this post? How could we improve it? :)
Let us improve this post!