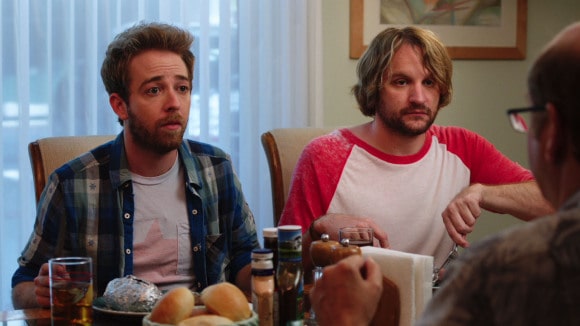 If you've ever watched Next Time On Lonny, the first two acts of Big Time in Hollywood, FL's first episode are a waiting game. There's the expected premise, the set-up of a typical single-cam comedy – and then, boom, the twist Lonny fans expect comes in the third act, right on schedule… and doesn't disappoint. Billed as Comedy Centeral's first serialized comedy (though c'mon Comedy Central: what about Review?), Big Time in Hollywood, FL bears the mark of creator/producer/star Alex Anfanger's brand of humor – and despite a few obvious weaknesses, stands as one of the more interesting high-concept comedy pilots in recent memory.
The only real problems with Big Time in Hollywood, FL are its protagonist: neither Anfanger's Jack or Lenny Jacobson's Ben hit with any grounded characteristics, mostly ciphers of jokes about lazy, overpriviledged 30-somethings living with their parents – who themselves end up being the most interesting people introduced in the half hour (being played by the wonderful Stephen Toblowsky and Kathy Baker, this is no surprise), parents attempting to let go of their dear children who've been taking advantage of them for what appears to be about a decade.
Instead of going peaceful into the dark night of maturity, Jack and Ben concoct a plan to rip off their own parents for $20,000 – except as they've done for their whole lives, they underestimate their parents and overestimate their own abilities (which we get a great example of, with their horrible filmmaking and worse editing in the opening scenes). I won't spoil it for those who haven't watched the pilot yet, but let's just say it involves a great cameo (though an obvious one, if you know what company is producing the show) and a hilariously ironic ending, where "best case scenario" for the family could have awful, awful complications for the scheming children.
How long can this premise run for? It will be interesting to see how Anfanger and co-creater Dan Schimpf view the ten-episode first season, but regardless of how much plot the show can drum out of its story (which doesn't even introduce Cuba Gooding Jr. in "Severance," something I'm probably a little too excited for), it needs to make Jack and Lenny something a little bit more than helpless schlumps to make this an interesting series. The "everything goes horribly wrong for bumbling idiots" story is an easy mine for comedic gold: I have more than enough faith in the writers to deliver a funny story – though that story will be weightless if there's nothing interesting to explore with the two characters. Why do they lack ambition – is it all self-delusion, or is there something more? I'm not suggesting these guys need to be empathetic characters, but having a little more insight into the lives and attitudes that drove them to this desperate place, and made them think this plan would go over well, in any way, shape, or form (the brief scene we get with the two role playing their mother? Not quite enough).
Regardless, I'm intrigued to see where Big Time in Hollywood, FL goes, especially as it expands its cast and gets into the heart of its story, which really begins in the last three minutes of the episode. As a prologue to a show, "Severance" struggles in places to make its main characters interesting – however, with an incredibly talented secondary cast at their disposal (Michael Madsen, Keith David, Paz Vega… the list goes on and on), the pieces are in place for Big Time to become one of television's weirdest little half hours, a mix of Fargo-esque humor (the movie or the show; you pick), with the ironic tilt of a (good) Guy Ritchie film – and very Ritchie-ian protagonists – that stands to carve a comfortable little niche in Comedy Central's ever-expanding comedy brand.
[Photo via Comedy Central]
Tell us what's wrong with this post? How could we improve it? :)
Let us improve this post!