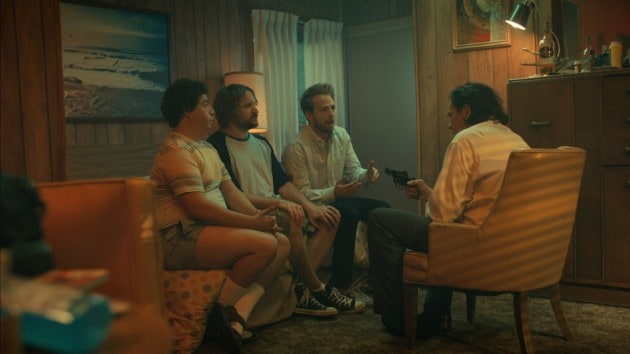 Each episode of Big Time in Hollywood, FL so far has tried to one-up the last, with more obscure, dedicated film homages opening each episode, and an ever-increasing number of absurd turns of events. Also, all of them have obsessions with killing off their celebrity guest stars in violent, ironic fashion – Cuba Gooding, Jr. hasn't joined this list yet, but after what happens to Harvey Stokes during "A Night In," it's safe to say that Gooding – and recent addition Keith David, who briefly appears at the end of "A Night In" to raise the stakes yet again – probably has a horrible fate awaiting him, given the events of the last two fantastic episodes of this weird little show.
Both "Paparazzi" and "Night In" begin innocently, presenting small-scale stories that appear to represent Big Time catching its breath – and by the end, both have wildly spiraled out of control, thanks to some hilarious turns of events. "Paparazzi" begins with Ben and Jack meeting in rehab, "Night In" with the them in a motel room with Del and Harvey – and they lead to Cuba Gooding, Jr. robbing a school teacher (while the guys film it, thinking they're shooting a reality show), and the three stooges staging a suicide to look like a suicide, giving new meaning to the word "dramatic trajectory."
Yet what's really impressed me with these last two episodes is the light touches of gravitas given to the show's characters: Alan's insecurities, Diana's overbearing maternal nature, and Jack's manipulations of Ben all come to the surface in the course of these two episodes – and although it's arguably "Paparazzi" that is the funnier, more outlandish episode, "Night In" expertly weaves the stories of Jack and Ben with their parents, adding to the cinematic qualities that make this particular brand of absurd comedy so engrossing. It makes for a much richer viewing experience. Even if Alan's attempts to be sexy don't quite match up with Ben realizing things have gone too far (his speech recapping the first four episodes is terrific), how they use their 'night in' settings to illuminate real conflict between the members of the Dolph family gives narrative depth, the kind of clarity and focus we've already seen in the show's direction and array of great performances (Lenny Jacobson's Michael Madsen impression? Pretty solid).
Plus, it has the benefit of Del: as the show's simple, beating heart, Big Time In Hollywood, FL walks a tight line between turning the character into an idiot, or informing his behavior with the extreme innocence and naivety he embodies. Del, like Jack and Ben, is clearly a child affected by his parent's overbearing nature – though in Del's case, it seems neglect may have been the driving force in his non-development, not genuine (though misguided) empathy that, over time, built into serious enabling. We haven't had a look inside Del's home life, but I'm sure in many ways it mirrors the life Jack and Ben lived growing up: he's just as delusional as they are, well-meaning but thoroughly misguided (though this could all come from Jack's ridiculous manipulations of everyone; either way, it works).
With the end of "A Night In," it appears the stakes have been raised yet again on Big Time, which gets its Fargo moment when Keith David arrives and announces "We've gone federal!" (okay, it's not quite the same as Key and Peele's debut, but I think the first season of Fargo and Big Time in Hollywood, FL are very thematically similar anyway). This will not only put the 'suicide' scene under scrutiny, but will put poor, innocent, leather jacket-wearing Alan in the sights of the FBI, thanks to the voice mail he leaves Harvey after the guys accidentally send a picture of Harvey's dead man erection to their mother. If that sentence alone doesn't describe the absolutely magnificent absurdity of Big Time, I don't know what can – but trust me, you should be watching this nonsensical love letter to cinephiles.
[Photo via Comedy Central]