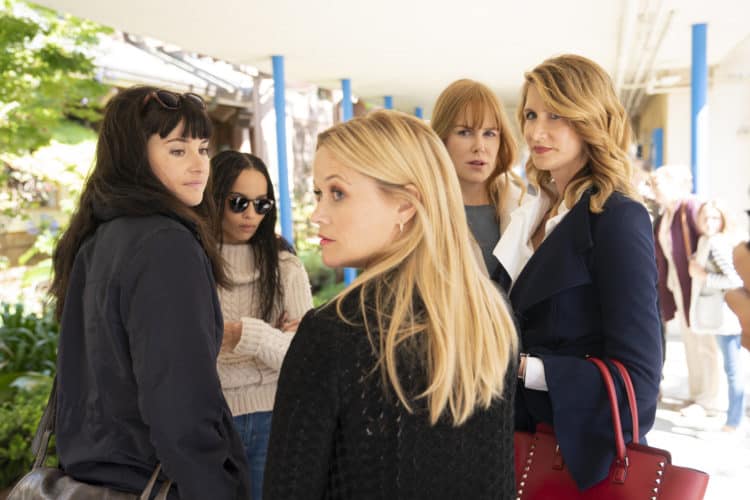 Created and teleplays by David E. Kelley, story by Kelley and Liane Moriarty, and based on the novel by #1 New York Times bestselling author Liane Moriarty, Big Little Lies returns for its seven-episode second season in June on HBO. The new season explores the malignancy of lies, the durability of friendships, the fragility of marriage and, of course, the vicious ferocity of sound parenting. Relationships will fray, loyalties will erode…and the potential for emotional and bodily injury shall loom.
On the surface, in the tranquil seaside town of Monterey, California, everything seems the same. The mothers continue to dote, the husbands support, the children remain adorable and the houses are just as beautiful. But the night of the school fundraiser changed all that, leaving the community reeling as the "Monterey Five" — Madeline, Celeste, Jane, Renata and Bonnie — bond together to pick up the pieces of their shattered lives.
With all seven episodes directed and executive produced by Andrea Arnold (Red Road), Big Little Lies features teleplays by David E. Kelley (The Practice). The stellar cast includes: Reese Witherspoon (Walk the Line), Nicole Kidman (The Hours), Shailene Woodley (The Fault in Our Stars), Laura Dern (Enlightened), Zoë Kravitz (Mad Max: Fury Road); Meryl Streep (Kramer vs. Kramer), Adam Scott (Parks and Recreation), James Tupper (Revenge), Jeffrey Nordling (Sully), and Douglas Smith (Big Love).
Big Little Lies is executive produced by the Emmy and Golden Globe-winning team of Nicole Kidman, Reese Witherspoon, David E. Kelley, Jean-Marc Vallée, Bruna Papandrea, Per Saari, Gregg Fienberg, and Nathan Ross as well as Andrea Arnold and Liane Moriarty. Big Little Lies is a Hello Sunshine/Blossom Films/David E. Kelley Productions production for HBO.
Tell us what's wrong with this post? How could we improve it? :)
Let us improve this post!