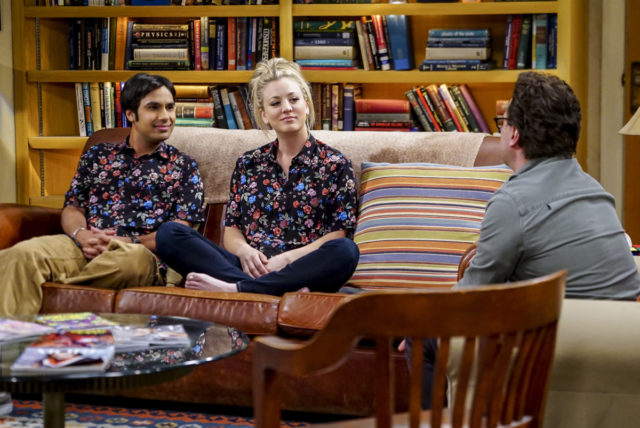 Though it tries nobly, sometimes The Big Bang Theory struggles to get any real story prospects going. Leonard getting jealous of Penny and Raj's relationship, while an interesting attempt at an episode, really missed the mark. Sheldon and Amy's relationship development was a bit more interesting, but overall this episode still missed the mark.
This week on The Big Bang Theory: Raj now lives with Leonard and Penny, and Leonard becomes jealous of his relationship with Penny. Feeling left out, Leonard turns to Howard and Bernadette instead. Sheldon and Amy collaborate on a research project for the first time, which proves to be a challenge for their relationship.
I certainly sympathize with Leonard feeling left out. It's a common, human emotion. But I think that Penny and Raj's relationship was a bit overblown, first of all. We all know that Raj has more in common with women than men. It didn't make any of its characters come off well. Penny and Raj both come off as selfish and oblivious, and Leonard comes off as whiny. It was amusing at times, but overall there wasn't a ton of merit to this story. Adding Howard and Bernadette to this story was probably the best choice the show could've made for this unremarkable plot, mainly because they realized how ridiculous it all was and didn't get sucked into said ridiculousness.
Sheldon and Amy's story was better. But, I still didn't think it was enough to carry an episode. Couples working together can often be a point of stress or a breaking point for relationships. This story was funnier, too, because Sheldon makes everything just a bit funnier. I can't imagine having to live with Sheldon, or work with him on a project, but since I don't have to do those things, it's entertaining. CBS obviously knows that it has a commodity in Jim Parsons and in the Sheldon Cooper character, because of the recent green light given to "Young Sheldon" as a spin-off. Still, when Sheldon and Amy doing physics/neuroscience together is the best plot you have in a weekly episode…that's not great.
There are always a few bright spots in a comedy episode. Here are a few:
"Unless it's singing 'Be Our Guest', I doubt it"
"I went to your office Christmas party?"
"Like all my underwear, that notebook says 'Property of Sheldon Cooper'"
I definitely laughed out loud when his notebook came back to him.
"It's like the peanut butter cup of the mind." "OOH! I know what I want for a treat". Sheldon, for a genius, is hilariously simple minded.
Though there were a few bright spots, it just wasn't enough. In its later seasons, The Big Bang Theory is at its best when it focuses on the growth and development of its characters. There were inches forward for Sheldon and Amy in their relationship, but some of the other characters faced a regression at best. To justify that two season renewal they just received, Big Bang is going to have to do better than this.
What did you guys think? Did you enjoy the episode? Let us know in the comments!
The Big Bang Theory airs Thursdays at 8/7c on CBS.
The Big Bang Theory Season 10 Episode 19 Review: "The Collaboration Fluctuation"
Summary
Sheldon and Amy collaborate on a project while Leonard feels left out on this week's lackluster episode of The Big Bang Theory.