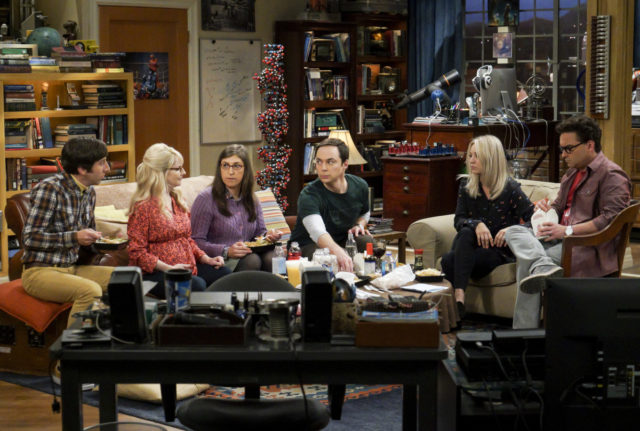 I hear a lot of complaints about The Big Bang Theory, and I think some of them are valid. Often times, the show is unoriginal or unfunny. It's hard to be completely original in such a traditional format. However, I genuinely believe that Big Bang still has important stories to tell, and "The Retraction Reaction" had several relevant and realistic points to make.
Let's start with Leonard giving a bad interview that gives the University a bad name. In this day and age, this seems to happen more and more. Apologies are being issued left and right for unintentional gaffes people make that elicit a reaction from the public. In today's society, I constantly feel pressure to apologize for being frank and honest with people when I don't agree with them. It leads to the moral quandry that many in our world face, unbeknownst to others. Lots of people decide daily between being honest and outspoken and keeping their jobs. Leonard faced a situation that's real. Stemming from that came the reveal that he's just not sure about his career path and facing uncertainty at work, which lots of people can relate to. Who hasn't faced some kind of uncertainty in the workplace? It may have seem simple and played for laughs, but these are two really important stories that are just not getting told on TV often.
The Big Bang Theory did just as good a job of celebrating its women for their accomplishments, even though it was through men ignoring them. We all know that Sheldon and Howard are both largely oblivious to the feelings of the women in their lives, and that's normal for men in today's society. I thought it was important to highlight Bernadette and Amy's professional accomplishments. Sure, it wasn't a perfect sequence and it pushed a little too much into bragging territory, but it was still important to recognize these women as professional and accomplished. It also spent some time tackling the common issue of working for a huge payday or loving what you do. I would've liked to see more time spent on that, though. Mayim Bialik and Melissa Rauch are gems.
Here are a few other thoughts:
I do think it was foolish of the show to imply that the donors would stop funding Physics research. That's never going to happen in real life.
Public radio has more like 14 or 15 listeners, not 12. Thank you very much, Mr. Wolowitz.
"I know who he is. Leonard dressed as him for Halloween last year"
I really enjoyed watching the boys get drunk on "Romulan Ale". That was a fun little side bit.
"The Uber driver won't pick us up because Sheldon is covered in blue vomit". My only regret is that they didn't show more of Sheldon in the aftermath of this.
Is it perfect? No. Is it still funny? Sometimes. Is it relatable? Yes. The Big Bang Theory is still doing a lot of things right, and that's why it has lasted this long. It's a solid show and it still makes good points. Nothing is perfect.
What did you guys think? Did you enjoy the episode? Let us know!
The Big Bang Theory airs Mondays at 8/7c on CBS