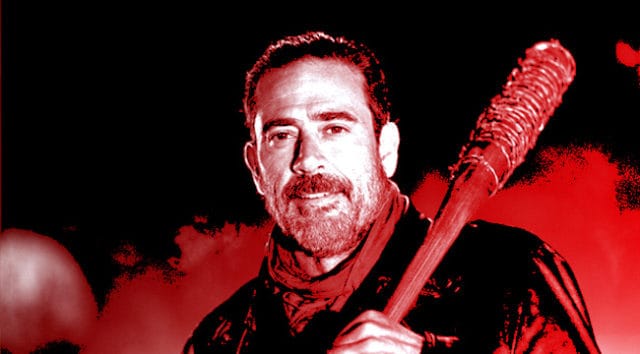 Television shows have been doing a whole lot more "crossing over" these days. And it's in all genres of show. The biggest area we're seeing crossovers in are the comic book shows, which makes the most sense because overlap is common with these characters. But other areas of crossover are much more subtle. For example a prop or recognizable T-shirt, logo, etc etc might be on a show that represents something from another show. A good example would be all the Superman stuff we'd always see on Seinfeld. While it's not a direct crossover because the show wasn't referencing a particular Superman show, it's still incorporating another franchise in your own.
Recently we got a Lucille sighting on Supernatural that was noted a few days ago by media outlets. The crossover between worlds is something Morgan and Supernatural star Jensen Ackles have had fun with in the past, but last week's Supernatural took things to a new level. The opening shot of Sam and Dean at the bunker featured Dean holding none other than Lucille, Negan's bat, as Dean declared, "Dad loved this thing."
Who is Lucille? She's the baseball bat wrapped in barbed wire that Negan carries around with him. Negan has a very special relationship with his bat. But it wasn't just Supernatural. Lucille also made an appearance on The Big Bang Theory held by none other than Stuart. When Stuart's heroics became necessary on the CBS series, his weapon of choice in defending his home from potential burglar's was Lucille – Negan's barbed wire wrapped baseball bat. Stuart has taken the bat from the show's comic book store, indicating the The Walking Dead exists in the Big Bang Theory's universe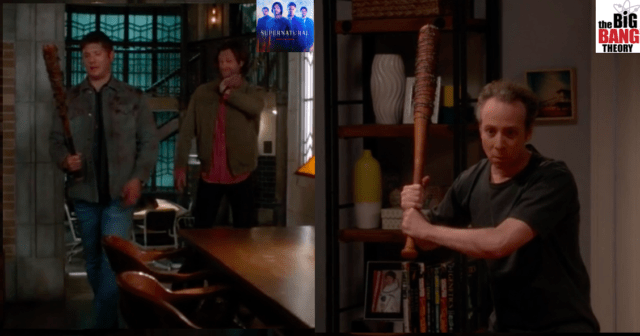 Tell us what's wrong with this post? How could we improve it? :)
Let us improve this post!